30 Trendy White Christmas Nails 2022: Try This Season
Christmas is not far. So, all of our dressing, facial, manicure, pedicure, nail art, and makeup planning are at their peak. But, when it comes to nail art, many people like to keep it simple yet stylish.
They like to adore their nails with those colors and patterns that will not take much time to get completed and must not interfere with their busy schedules.
But, do any such nail color or design exists in reality that can be attained within minutes? Yes, of course, there are!
Here we are gonna share with you 30 impressive and easy-going white Christmas nails that you will love to wear this season! So, here we go…
1. White Christmas Nails With Silver Foil:
Wanna get a minimalistic look with your nail art and yet keep it shiny? Then, allow some silver flecks to do the magic!
Also, it's all about Christmas and we can't miss it in our nail painting. So, paint snowflakes on 2 or 3 of your nails and depict the season of this festival.
This white Christmas aesthetic look will impart a dramatic impression on your nails.
---
2. Glittery Red And White Christmas Nails:
Red and white itself is a perfect combination when it comes to nail art. And, adding glitter to it is like adding the cherry to a cake's top.
So, if you are a glimmery-shimmery type of person who has a special love for glossy things, this nail color combination and design is just made for you. Go wear it…Done? Voila! Your nails look stunning!
---
3. White And Green Christmas Nails:
It's very common at Christmas that we spot red and green colors stealing the spotlight. But, have you seen the rare but incredible combination of white and green? No?
Then see it here on these nails. The beauty of this combination gets intensified with the jewel-studded leaf motif paintings on them.
---
4. Christmas-Themed Designed Nails:
Do you have French-tipped oval nails? Then make them look gorgeous and classy with this sweet and modest Christmas-themed design.
There's something about this design that will not let your eyes drop even for a minute from your white Christmas nails.
Also, we bet, this white Christmas aesthetic design on your nails will never bore you, even when you stare at them for hours.
---
5. Glittery Red And Green Christmas Nails With White:
Christmas is incomplete without colors and glimmers.
So, how can we escape a glittering colorful nail art of red, green, and white and not mention it when we are discussing all Christmas nail art!
Just go for this nail manicure this Christmas and celebrate the festive mood in the true sense.
---
6. Icy Snowflakes Nail Paint:
Enough of deep and intense colors for nail painting! Now, how about choosing light blue Christmas nails? Let's bring light blue and white colors onto the field and entitle them to play the game.
And, we assure you that they will not disappoint you. Paint some nails icy blue (glossy) and the others patterned white and draw some light snowflakes on the white ones.
The nails will bring out the oomph factor in you!
---
7. Sexy V-Designed White Christmas Nails:
V for "Victory" and V for V-designed nails! Similar indeed! After all, in this season's Christmas party, these V-designed nails are going to bring you fame and make you the center of attraction anywhere you go!
Just white Christmas aesthetic V-patterns on your nails, a handsome of silver glitters bordering them, and a little glossy polish… that's all! You are done! So easy, right?
---
8. Red-White Nails With Snowflakes:
Now, look at this red and white Christmas nails art! Isn't it alluring? Well! We think, this exquisite design is enough to turn anyone's head around and it's not that hard or time-consuming.
Paint all the nails glossy red and then give the accents of snowflakes, stars, and candies with white compositions on them. Clap out loud!
---
9. White-Green Nails With Zigzag Christmas Tree:
What is Xmas without a tree? Just have a glimpse at these nails! Aren't you loving the idea of a Christmas tree on your nail? We're already loving this design!
And, wow! The golden glitters are just looking astounding on the white and green Christmas nails! In fact, the nails are appearing playful and sassy enough to turn anyone on.
---
10. Retro White Christmas Nails:
Are you a classic-nail art lover? Then, for you…only for you…we have picked this Retro Bobby-printed designed white Christmas aesthetic nails.
We think you are already admiring this rare yet chic design a lot! The baby pink color along with white is lending these nails a distinct look and making the rose gold glitters stand out.
---
11. Red-White-Green Glossy Retro Design:
Red and green Christmas nails are already popular for this season and when white combines with it, the look is flickering. So, hey gals! Do you love retro fashion with a twist of colors?
Then, you are one step ahead of donning this rare glossy polished bobby printed manicure on your nails. Wear this design on your nails and exhibit the unique you.
---
12. Sweater Patterned Christmas Nails :
Christmas and winter are related just as sweaters and snowflakes.
So, why not bring all these things in a single white Christmas aesthetic nail painting and highlight the cold effects of winter through our nail art?
These white Christmas nails are a terrific choice for those who want to keep it natural yet evocative.
---
13. Ice Blue With Diamond Nails:
Come Christmas and it's cold outside!
These light blue Christmas nails will make up your mood for some hot coffee on icy days so that you feel cozy at your home and celebrate the festival in your full form with your friends.
The silver studs and thin ribbons of this nail art accentuates the frostiness of the look.
---
14. Glassy White Christmas Nails With Snowflakes:
Just look at these glassy and polished Christmas nails freshly designed in an adorable manner! Aren't they looking fabulous with the addition of the snowflakes?
They are so fascinating that we can't skip them from adding to our list. The white and silver glitter lightly spread on some nails are symbolizing the Christmas season with falling snows.
---
15. Acrylic Red-White Nails With Tied-up Ribbons:
We can't imagine Christmas without gifts. So, howz the idea of making our white nails canvases and painting red tied-up gift ribbons on them? Amazing, right?
After all, red goes so well with white. Paint red acrylic nail polish on the 4 nails of each hand and keep 1 nail white.
Now, paint gift ribbons on the white ones with red color. Aren't your red and white Christmas nails reflecting a wonderful X-mas vibe?
---
16. Matte Plaid Green Christmas Nails With White:
Want another startling set of nails in white and green? Then, here it is! The composition has a mediocre and matte look.
The criss-cross design done with white and green is further imparting an elegance and classy look to the nails. Craving to get these nails, right? Just go for it!
---
17. Matte White With Red And Green Shimmering Nails:
Are you a person who likes to adorn your nails in a customary yet sophisticated look?
Then, go matte white on your nails and contrast the straightforward look with intricate red and green Christmas nails.
Sprinkle red-colored sparkle powder on one nail of your left hand and green-colored sparkle powder on the equivalent nail of your right hand. You fly high, Girl!
---
18. Red-White Mistletoe Christmas Nails:
These short red and white Christmas nails are so cute and trendy that they couldn't escape our eyes. The set of four nails of each hand is polished with dazzling and sparkling red.
And, their contrast is done by the remaining matte white nails on which the mistletoe painting of cherries and green leaves are dancing with pride.
---
19. Baby Blue Matte Snowflakes Nails With Silver Glitters:
Wanna get a timeless look with your nails? No, you don't always have to involve white Christmas nails for that. Sometimes, blue nails can also do the trick!
Just play with dainty white and silvery snowflakes on the setting of your light baby blue Christmas nails. Make one nail of each hand sparkling with silver glitters to enhance the charming look.
And, trust the rest on the nail art's magic.
---
20. Christmas Nails With White Deer And Snowflakes:
Love painting? Then, make your nails a canvas and shade them green.
Now, apply the brush with white on the green Christmas nails in such a way that candies, deer, and snowflakes get imbibed on the greens.
We promise you that, no one will pass out without commenting on your nails as they catch their glimpses.
---
21. White Christmas Nails With Mistletoe Leafy Berries:
Are you a nature lover? Then, how about trying this white Christmas nail composition with the mistletoe art of leafy berries?
It's extraordinary and freaking glamorous, isn't it? At least, we feel so! Just get on this mistletoe art painting on your nails and turn everyone around you…"Wow".
---
22. White-Tipped Red Nails With Silver Glitter:
Ever thought nail painting can be as hot as this one? These red and white Christmas nails are so salacious that they will make everyone fall for you!
"Don't look at me that way…I will turn you crazy" – this is what these nails are murmuring right now! Now tell us, do you have the strength to ignore this nail art?
---
23. Sweater And Snowflakes Designed Blue Nails:
It's winter after all and your nails also feel cold! So, even if you ignore wooling sweaters for your nails, wouldn't you like to cover them virtually with some sweaters?
Hey! Here are the light blue Christmas nails with snowflakes and sweater patterns on them! Don't you think they will look cool on your nails and your nails will feel cozy?
---
24. Navy Blue Velvet Nails With White:
Now, it's time for some velvety touch to your luxurious-looking navy blue and white painted nails.
Oh, wait! How can you miss sketching some snowflakes and thunders on your blue and white Christmas nails when the season is winter and the festival is Christmas!
---
25. Red-Green-White Glitter Candy Cane Nails:
Well! You know, candy is every girl's favorite thing and so, glitter candy cane nails can never go out of fashion.
Here's a set of white, red, and green Christmas nails with candy cane patterned designs for you so that you stop putting on those boring old nail art on your nails at least for this season.
---
26. Acrylic Light Blue Coffin Nails:
Searching for easy-to-do Christmas nail paint for your long coffin nails? Then, count this design of light blue Christmas nails with snowflakes and ice flakes.
The glossiness of this acrylic nail art will touch anyone's heart directly and help you to make the showstopper of the Christmas party or event you have come to attend.
---
27. Red And White Double Cross Nails:
See these red and white Christmas nails with a double criss-cross design! Aren't they looking fantabulous?
This design is evocative of the wooling pattern of sweaters worn in the winter. The entire nail art has been done with a glossy finish and it's hard to withdraw our eyes from it.
---
28. Green Christmas Nails Deer And Snowflakes:
Magnificent emerald green nails spotlighted with jeweled reindeer and white snowflakes – aren't they appearing luxurious?
We guess any noble, bold, and brave lady would love to wear this nail art on their nails with pride!
---
29. Red-Green Nails With A Reindeer Painting On White:
Have short nails and still want your nail art to look vivid this Christmas? Then, achieve a greatly colorful look of white, red and green Christmas nails with glossy nail paints.
Add one or two small reindeer on your white-backgrounded nails so that they stand out well.
---
30. Red And White Christmas Nails With Santa:
Christmas without Santa is like cake without dough.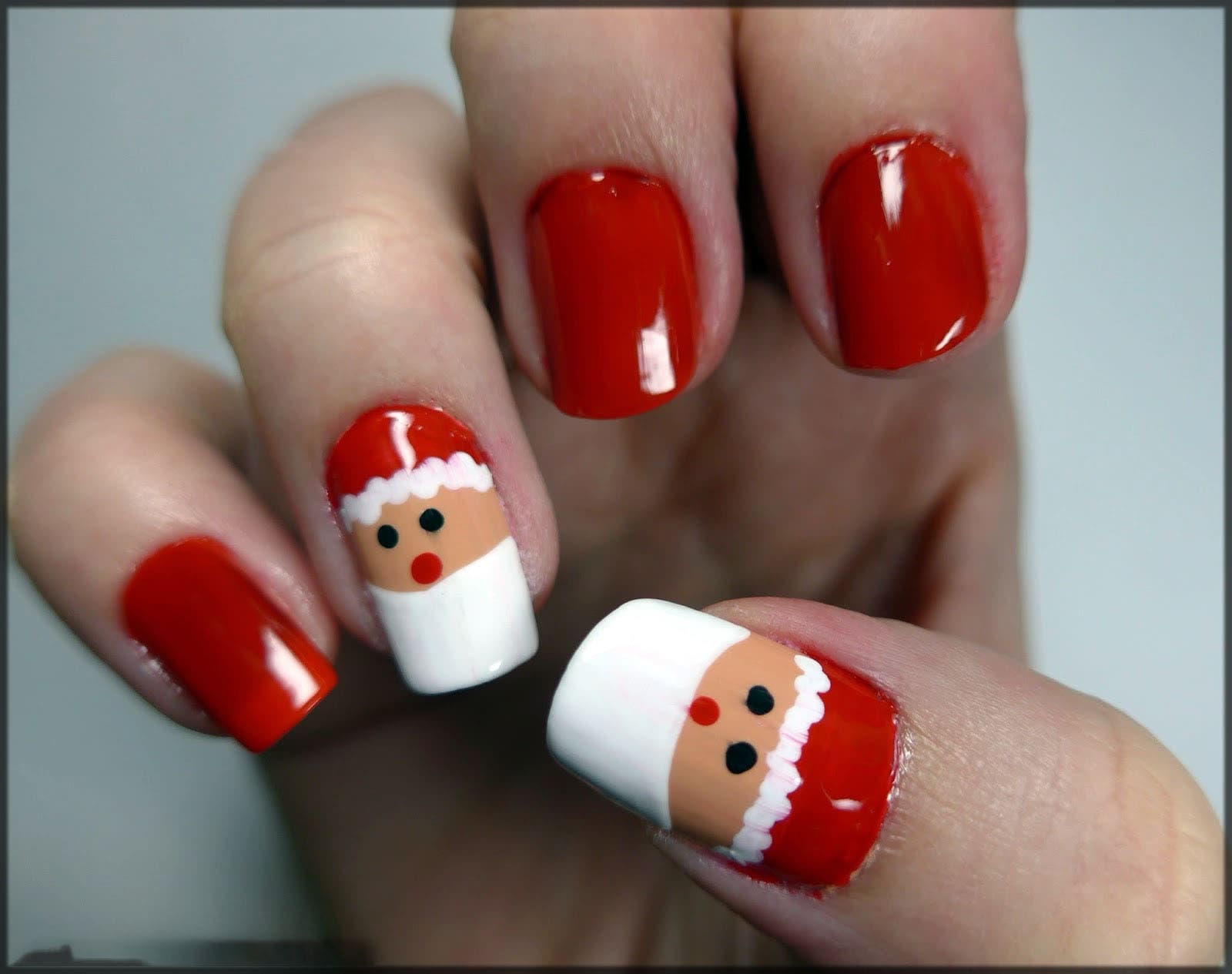 So, here's a nail art with Santa everywhere on it – Santa's face, Santa's dress with a belt, and many more. Is there anything more Christmasy than this?
Wrapping Up:
So, what's your pick for nail art this season?
We are waiting eagerly to explore your Christmas choice of nail art from our list.
Also Read: Try 15 Different Shades of Brown Nails: Be Creative
Also Read: 29 Trendy Green Christmas Nails Ideas: Must Try In 2022