What To Wear To A Rap Concert: Top 15 Rap Concert Outfits Ideas
Although we all enjoy seeing our favorite performers live, deciding what to dress for a rap concert outfit or music festival may be difficult.
You want your dress to be the right balance of comfy and stylish so that you can dance the entire night while looking fabulous.
To set your mind at rest before heading out to see some live music, we've put together a handy guide to event & festival attire, divided by genre.
Put on your favorite playlist and continue reading for a musical dose of fashion inspiration.
What to wear to a rap concert? Top 15 rap concert outfits ideas below:
1. Cute Outfit for Rap Concert Ideas
As everyone knows, rap concerts can become steamy; therefore, staying cool and relaxed is critical.
So, The combination of a white Loose T-shirt with a Blue denim jacket and white sneakers will be a perfect combination for a rap concert outfit.
There's a good possibility you'll remove your jacket throughout the concert, but I recommend bringing one with you in case you need it at the start or conclusion.
---
2. Denim Skirt with a Black T-Shirt
We have a great combination if you're thinking about what to wear to a rap concert. A denim skirt with a Black T-Shirt is an excellent choice for hip-hop concert outfits.
Choosing the appropriate size and design will determine what you enjoy and desire. Adding glasses will instantly upgrade your style.
It will free your look so you can rock out at a rap concert. If you're going to a rap concert, you should be relaxed and outgoing.
---
3. Joggers with Crop Top and Layering
A rap concert is the ideal setting for you to flaunt your sporty-chic side. Dress comfortably enough to move about all night without losing elegance.
Try wearing your favorite crop top with your best matching or fancy joggers. You can also layer it up and try adding some jewelry to look fab. This combination will be one of the top rap concert outfit ideas.
If you think the color of the coat is too monotonous, why not try adding some embroidery
patches on it to add points to your dress? Choose your favorite rapper image or rock-
style pattern as custom patches, and paste them on the clothes or pants, this kind of
outfit will make you very dazzling in the crowd. You don't need much design knowledge,
just tell GS-JJ your demands and upload your favorite pictures, then you can customize
the products.
---
4. What to wear to a rap concert?
If you want to take it a step far, a cocktail dress with heels might make you feel completely put together for such a special occasion.
This outfit will be one of the best hip-hop concert outfits ideas. We're betting you only go to rap concerts a few times a year, so renting the outfit will be your best option.
Now, you must have got your answer "What to wear to a hip hop concert party"?
---
5. A Moto Jacket with a fun pattern dress
Everyone loves wearing comfy clothes that don't interfere with their looks. Now what to wear to a rap concert? To be honest, there are limitless possibilities.
You can pair up a moto jacket with any fun pattern dress. Do something innovative with your hair too. In this way, you can rock in your rap concert.
A moto jacket with a fun pattern dress will be among the top rap concert outfit ideas.
---
6. Animal Pattern Dress
Picking what to wear to a hip hop concert is a dress-up game. Take ideas from your favorite pop star's outfit when deciding what to wear (although it's fair to presume that anything goes).
Choose from animal print and other patterns – the sky is limitless! Top with an animal pattern dress to enjoy your rap concert.
No one will stare if you turn up in stilettos but consider that your feet could hate you the following day. Animal Pattern dress will be among excellent rap concert outfit ideas to go with.
---
7. What to wear to a Music Festival outfit?
When attending a rap concert, combine comfort and elegance.
Lean for bright colors and loose-fitting, comfortable apparel like breezy mini dresses and sweatshirts to avoid seeming like you're trying too hard.
This outfit is also suitable for hip-hop concert outfits. Adding glasses with this rap concert outfit will be the best option for a rap concert.
---
8. What to wear to a hip-hop concert outfit?
Hip-hop, like a rap concert, is all about balancing fashion and comfort. Choose apparel that is slouchy but still attractive in darker hues.
This might include an oversized sweatshirt, chinos, and comfy sneakers. Don't be hesitant to accessorize; beanies, chains, and belt bags are excellent ways to bring your look together.
Wear branded products if you possess the means since they elevate any look!
---
9. Torn Jeans with Sneakers and a T-shirt
There are several rap concert outfit ideas, and this is among the most popular in the industry. Besides, you'll never seem like a rap enthusiast until you wear a colorful t-shirt and tattered jeans with sneakers.
Look younger with this combination; you will not regret your choice later. Let your outfit not destroy your rap concert party.
Enjoy your moment with a great combination of these rap concert outfits.
---
10. Long Boots with Oversized T-Shirts and Black Glasses
What to wear to a rap concert? This question revolves around your head every time. So, we have something for you which will clear all your doubts.
Most rap concert outfits ideas include boots as comfy shoes and oversized T-Shirts options for a nighttime event
Furthermore, because you will be on your feet for an extended period, you should select footwear that you are comfortable with. Your T-Shirt must be comfy to provide you with some room for your body movements.
---
11. Rock your look with Fishnet Rap Concert Outfit Ideas
Are you feeling intimidated by the prospect of wearing a fishnet? You'veYou've probably seen similar outfits at rap events but never tried them yourself.
So, if you're attempting this for the first time, don't be afraid. Your dazzling appearance will steal the spotlight.
A rap concert is an excellent opportunity to show off your hot outfit. People go ALL IN on their clothes!
---
12. What to wear to a hip-hop concert? (Rock with Bandana)
Apart from a crop top, layering a shirt and jeans, accessories also play an important role in hip hop concert outfits.
It is a fashionable accessory that may be worn with hip-hop outfits. It's challenging to know what to dress for a rap concert, especially if you don't even have any ideas.
Furthermore, having a bandana as part of your rap concert clothing might significantly affect your look.
---
13. What to wear to a rap concert and jazz your look?
Deciding what to wear to a rap concert might be challenging for the first time.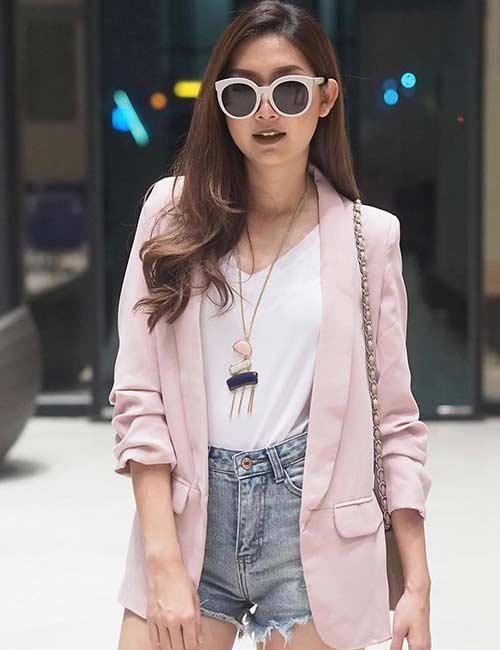 If you want to enjoy and jazz your party, we have a great rap concert outfit idea for you. You can pair up any white tee with any shorts.
Don't forget to add accessories like glasses and chains with this combination.
---
14. Leather Pants with Black Shiny Top
No ensemble is more dazzling for a rock and pop concert than a pair of leather trousers with a Black Shiny top & stiletto heels.
Of course, a sparkling touch, such as gold earrings, is required for a glam-rock attitude. You can try these perfect rap concert outfits ideas to steal the spotlight.
---
15. Body Hugging dress with Sneakers
Hip Hop performances often necessitate a more polished appearance. Wear a body-hugging dress with a light jacket to keep things crisp and chilly.
Aside from that, you may try this other combo. A more admirable body-hugging gown with casual shoes may also suffice.
---
Conclusion
What to wear to a rap concert is a performance in and of itself. Whether you're attending a Metallica or Rocky performance, dressing the part is essential.
Sometimes it's best to keep to a theme, but you may do anything you want on other occasions.
We've covered it if you're unsure what to wear to a rap concert. The best 15 rap concert outfits ideas are given above.
Also Read: Latest Most Popular Dubai street fashion styles outfits ideas
Also Read: What Is Clutch Trend? 9 Trendy Clutches You Should Buy?