What Is Clutch Trend? 9 Trendy Clutches You Should Buy?
Can you confidently own your fashionista look without holding a trendy clutch? No right! There was a time when clutches were a symbol of vanity and aristocracy but not anymore.
If we go by the trends, clutches now turned out as a day-to-day accessory. Those who wanna embrace minimalist getups are also using clutches for utilitarian reasons.
So, be it collaborating with your casual outfits or sequin dresses, slaying it with a clutch bag is the trend of the day. Know what is clutch trend, top clutch ideas, and more with us.
What is Clutch Trend?
The Clutch trend is about complimenting your outdoor looks with appropriate clutch bags so that everything creates a natural impression.
But guess what finding the best from hundreds of top handle clutches, dazzling purses, etc is no more a child's play. With the growing designs and choices in the market, it has become a challenging task.
For picking the right clutch, everything from fabrication to size matters. So know about the top clutch trend types from here.
---
What is Clutch Trend: Top Categories
Glam Slam  Statement Clutches –
For those who don't have many things to carry the statement, clutches are made for them. These types of clutches are lighter in weight but never compromise in fetching out the boldness in you.
Within statement clutches, you will find all kinds of diversity of designs and patterns. Some are simple velvet clutches, the others are a combination of beadwork and sequins and appear in funky shapes.
Here are some top-picked statement clutch bags for you.
1. Rosantica Sequin feather Liquirzia Ballerina Bag
Elegance will be an understatement for such a beautiful aristocratic trim bag. The key highlights of the bag include father trim detailing, sequin embellishment along with chain pattern shoulder strap.
Pair with any crop top, bellbottom jeans duo, or red sequin maxi dress to steal the late-night party limelight.
---
2. Louis Vuitton Clutches Collection
You can't get enough of what is clutch trend, unless you check out some of the heart-throbbing metallic or leather statement collections by Louis Vuitton.
The metallic clutches we are speaking of are overflowing in terms of style and consist of Alcantara interior and metallic leather exterior.
From sophisticated plus size dresses to late nightgowns these metallic clutch trend will set the party mood. The metallic or leather clutches by LV are available within the price range of $1200-$5500. Check out
---
3. Jimmy Choo crystal embellished Clemmie Clutch Bag
The crystal-embellished statement clutch is available in either black or golden tone color. The exterior is made of hardcore material with full lining, gold-tone hardware, a clasp fastening, and a detachable shoulder strap.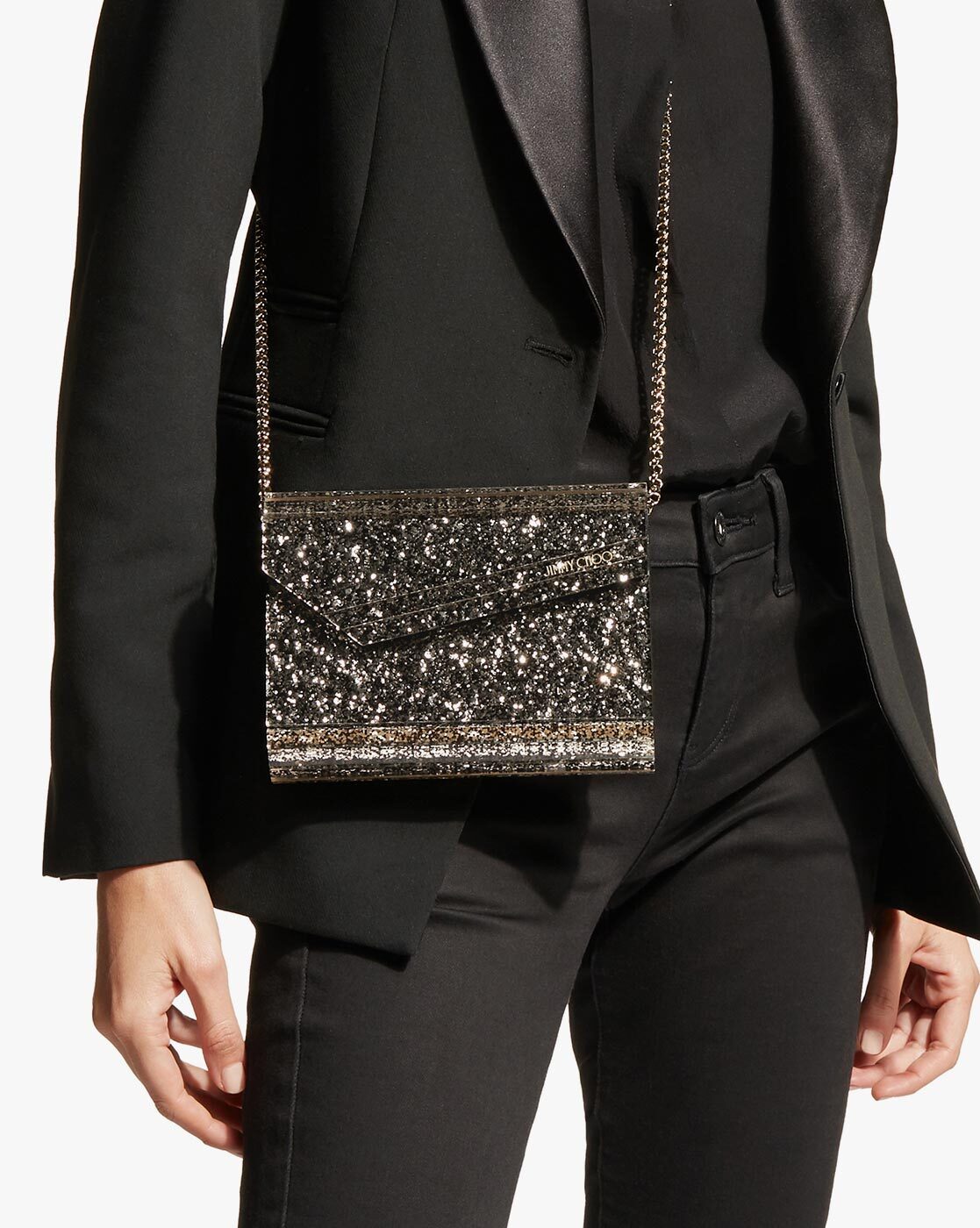 The detachable chain strap will match wearing it with any hardware golden accessories. Besides that, pair the golden statement clutch with a monochromatic LBD and the black with a scarlet red suit to watch the desired result. The clutch bag is available at $4,775 on sites like farfetch.
Classic Top-handle Clutch Bag –
Clutch bags with handles are made for office looks or any street or casual looks mainly. However, that shouldn't be stereotyped in any way as most of the top handle clutches can also go with party wears.
While scrolling through the best e-shopping sites, we encountered some extraordinary clutches with top handles. Explore them below-
4. Mulberry Grained Leather Clutch/ Bag
As the brand says it all Mulberry has some awesome leather-grained hand clutches for the trendsetters out there.
With each top handle clutches or bag by the brand, you will get a detachable chain link, fastening hidden magnet, grained texture, and the logo plaque.
Most of these leather handbags by mulberry are available within the price ranges of $860-$1200 only. Here are some most sold models-
---
5. John Lewis Carvela Rebel Clutch trend bag
The specialty of this Carvela Rebel John Lewis bag is in its outer soft quilted layout which is hard to find. The outside featured chains make the carvela rebel bag perfectly suited for all seasons.
Other than the two chains at the front of the bag which is mainly for fashion and aesthetic sense, it also comes with a cross-body adjustable strap. The bag has a singular compartment with zipped-in pockets.
Anytime style it with raffle shirts or simply skinny vests and trouser pants while putting on your high heels. Find the top-handle clutch bag in nearby stores at £129 ( shipping charges may vary).
Side Handle Statement Clutch Bag –
In this what is clutch trend series, the side handle clutch bags equally secure the top spots in terms of popularity and convenient handling.
Even though the side handle statement clutches may look similar to any typical pouch, those who want to keep their makeover minimalistic and part of daily fashion should choose the side handle clutch trend.
6. Croco side handle clutch bang
If your bias is Croco design bags and clutches then we have awesome Croco design side handle clutch trend for you. Have a look down!
---
7. Comme Des Garçons Polka Dot Side Handle Clutch
What is special about polka dots is that they maintain the retro look in a more evergreen funky manner. No one can say that they are tired of polkas.
The Comme Des Garçon polka dot clutch trend consists of a logo stamp at the front center with top zip fastening. The design is available in two colors: red and black.
The outer part is made up of 100% leather material. Including all import charges, get the statement clutch bag at $221 or lesser if the discount applies.
How about twinning the polka-dot black bag with a single-breasted blazer and wide-leg trousers pants?
Envelope Clutch Trend –
There are many side or top-handle clutch envelope bags that are enough to create a statement look wherever you step in. The envelope clutches resemble typically a postman envelope and are characterized by their spacious nature.
In this what is clutch trend, the best clutches edition, we have figured out some of the slaying envelope patterns of new season bags by Saint Laurent, Moreau, and Jimmy Choo. Check out the coolest collections-
8. Popular Saint Laurent Envelope Clutches
In all these envelope bags by Saint Laurent, are distinguished with the signature YSL plaque logo. The bags are all-season bags and are available within the price range of $400- $2000.
● Saint Laurent Monogram Envelope clutch bag available at $475. The bag is made up of outer genuine leather and is black. The internal logo is sealed through patches. Wear pointed-toe ankle boots and flared denim to have a corporate impression.
● The quilted Saint Laurent Monogram envelope clutch is present in the market in multiple color variations. You can check out the opyum red; taupe brown; peach pink; light olive green; off-white or black color options. The outer design is similar to chevron quilting and the material used is leather and metal gold-tone hardware. The bag types are there in the market at $1,590 or more depending on the design or color you choose.
Box Clutches
What is clutch trend ideas are incomplete without chic box clutches which look classy and unique at the same time.
Every time we hear about box clutches, the first brand that comes to our mind is Dolce & Gabbana clutch collection.
9. Dolce & Gabbana Box Clutches
The box clutches are made of wooden material and the outer side is embroidered and designed with studs.
---
The End: What Sets Your Clutch Trend Apart?
Through this article, you got to know about what is clutch trend, different ideas, and how to pair them with your garments perfectly.
However, there's always some room for experimentation with looks. So, test the best clutches from other brands too with your rarely tried-out outfit today!
Also Read: Know About all Types of Handbags for Women
Also Read: The Latest Italian Street Style Ideas To Inspire Your Next Outfit