Top 18 Thanksgiving Makeup Looks To Try In 2023
Thanksgiving is all about enjoying moments with loved ones & eating way too much pumpkin pie, but it's also the start of the festive season, which is our favourite time of year to glam with glittery eye makeup and red lipstick.
We've already begun collecting ideas for our Thanksgiving makeup looks and sharing some of our favourites.
Even if you're spending the holidays with friends or at home this year, the beauty tutorials below will help you achieve the ideal appearance.
After all, when we visit relatives and friends we have not yet seen in a long, we all want to look our best. We've compiled a list of seven simple Thanksgiving makeup ideas, from eye makeup to lip gloss, to help you achieve your finest holiday beauty look.
1. Red Eyeshadow Thanksgiving Makeup Ideas
Eyeshadow plays a vital role in great makeup. Red Eyeshadow will be the best choice if you are looking for makeup ideas for Thanksgiving.
Hence, this is best among thanksgiving eye makeup looks. Red Eyeshadow is rising in popularity, and there is no more significant time to try it than Thanksgiving.
It looks excellent with delicate, peachy lips & bold, soft-touch brows. The red eyeshadow makeup look is considered among the best thanksgiving eyeshadow looks.
---
2. Fall Inspired Thanksgiving Makeup look ideas
Feel cheerful by wearing fall colours, like Ayeesha does. We adore how she combines reds, golds, oranges, browns and yellows.
Recreate this lovely style, or be daring and try something new with these hues. The options are unlimited with this combination of colourful and neutral shades.
Don't be hesitant to experiment with autumn-coloured lipsticks, blushes, eyeliners, and mascaras. Among thanksgiving makeup ideas, this makeup look ranks at the top.
---
3. Over Eye Graphic Liner: Thanksgiving Makeup Looks
Even your cosiest clothing will look better with graphic eyeliner in an autumnal tone like cocoa or golden. Begin by tracing your form with a pencil liner, then add drama using a liquid liner.
It may appear complicated, but if you work carefully and maintain enough cotton swabs & micellar water on hand, you should be able to master it.
So, the idea of using a graphic eyeliner will be the best among thanksgiving eye makeup looks.
---
4. Glittery Eyes with green makeup
Green is yet another fashionable hue for this season of the year. The following makeup tutorial demonstrates how to apply green in elegance. It is dark green with a swath of glitter.
To achieve this look, use green shadow and any Cosmetics Glitter Liner in Rapture or anything similar for the glitter.
We hope you must have loved this one of the perfect thanksgiving makeup looks.
---
5. Bronzed Glow on Face
When the weather is so arid, it might be tough to get a dewy sheen, but with the aid of a YouTuber, I am shelly; anybody can achieve the effect.
In addition to demonstrating, she demonstrates how to create a beautiful dewy, but she also adds a hint of glam with bronze eyeshadow and a glossy lip.
Hence, it will be one of the best thanksgiving makeup looks.
---
6. Orange Lip Stains
In the series of thanksgiving makeup looks, we have another one of the best thanksgiving makeup ideas.
Checking your lipstick in between bits of mashed potatoes and turkey sounds awful, so I'll be wearing a stay-put lip stain in a pumpkin tone like this for Thanksgiving.
It won't spread, smudge or run as you eat, so you should not worry about touch-ups.
---
7. Rainbow Eye Makeup: Thanksgiving Eye Makeup Looks
Rainbow eye makeup is among the best thanksgiving makeup looks.
If bright rainbow eyes are too much for your informal Thanksgiving meal with the family (which is understandable), you should rock the style the night before at the bar on Thanksgiving Eve.
Prepare your eyelids first with a waterproof eye primer to protect the shades from running together and sliding off your face throughout the night.
---
8. Pink Stain on Lips (Thanksgiving Makeup Ideas)
Popsicle lips look stunning in the cold weather, and a flushed stain is a lovely way to wear an intense colour like bright pink (and to ensure that it does not run).
You must try this excellent thanksgiving makeup look. Peripera Ink Velvet Lip Tints come in various hues and do not move.
Now, your lips will be the main attraction of your stylish look.
---
9. Eye Shadow with Bold Lashes Thanksgiving Makeup Looks.
If you like more modest makeup, check out our next suggestion. This makeup look includes a warm, natural-looking eye shadow complementing solid lashes.
The eyelashes glam enhances the simple makeup, but you could do it without or with them. You may even use a burgundy lip colour.
So, If you are looking forward to using this makeup look, go ahead and try it because this is among the top makeup ideas for Thanksgiving.
---
10. Fluffy Lashes with Rosy Pink Lipstick
Nowadays, full lashes are popular. You may experiment with this trend and improve your appearance multiple times.
With a flush of chilly pink blush over your cheeks and nose, you can increase the "just got in from the cold" factor.
A tinted rosy lip balm plus fluffy lashes round off the appearance. It will be one of the best thanksgiving eye makeup looks and thanksgiving makeup ideas.
---
11. Naturally Flushed Cheek Looks
Try recreating this flushed-cheek look if you want to keep your makeup simple for Thanksgiving.
Dab a peachy or pink crème blush on the apples of your cheeks and mix it in with your fingertips towards your temples. Hence, Flushed Cheek Looks is among the best thanksgiving makeup looks.
---
12. Orange Thanksgiving Makeup Looks with Sparkle.
A Thanksgiving makeup collection would be incomplete without a charming orange makeup look like this one.
The eyes shimmer with gorgeous orange glitter, and the lips are a solid and brilliant orange colour. This makeup is stunning and utterly suited to the occasion.
So, It is one of the best thanksgiving eyeshadow looks.
---
13. The Rose Flush: A Beautiful Thanksgiving Makeup Looks
The simplest way to pull a look together is to use the same hue over your eyes, lips, and cheeks—plus, a lovely pink tint lights up your entire face.
If you wish to take it one step further, a sharp wing & glossy lips will add even more oomph.
---
14. Stunning Emerald Eyeliner with Curling Mascara
This stunning emerald wing eyeliner makeup look is *perfect* for anybody who wishes to go all-out glam for Thanksgiving.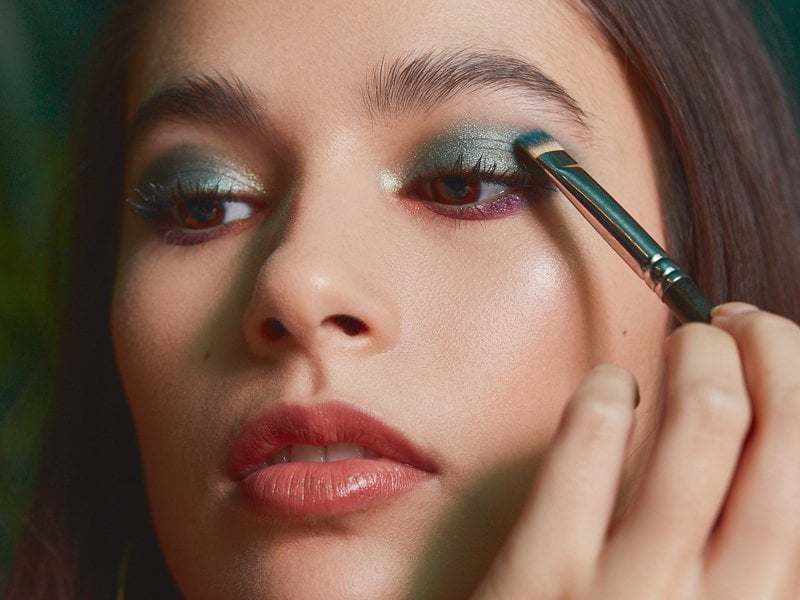 Make an exaggerated wing with sparkly green liquid eyeliner, and apply a couple of coats of curling mascara. It is one of the best makeup ideas for Thanksgiving.
---
15. Taupe Eye: A Thanksgiving Eyeshadow Looks
We have a solution for you if you're searching for a thanksgiving eyeshadow look. I'm obsessed with this taupe-coloured Eyeshadow & pink lipstick Thanksgiving beauty combo.
Choose a transfer-proof and waterproof matte liquid lipstick and dab the colour with a tissue between applications to keep your lip colour in place all day.
---
16. Fall Glam Makeup Looks
A sharp cat eye could never go wrong, and Thanksgiving is no exception.
A little golden shadow and a pumpkin-inspired lipstick hue bring out the autumn vibes. Personally, This is among my favourite makeup ideas for Thanksgiving.
---
17. Fall Makeup
Because Thanksgiving is in the season, you may try this seasonal makeup. The eyes are framed with a warm brown eyeshadow with a classical liner flick, and the lips are a burgundy tint.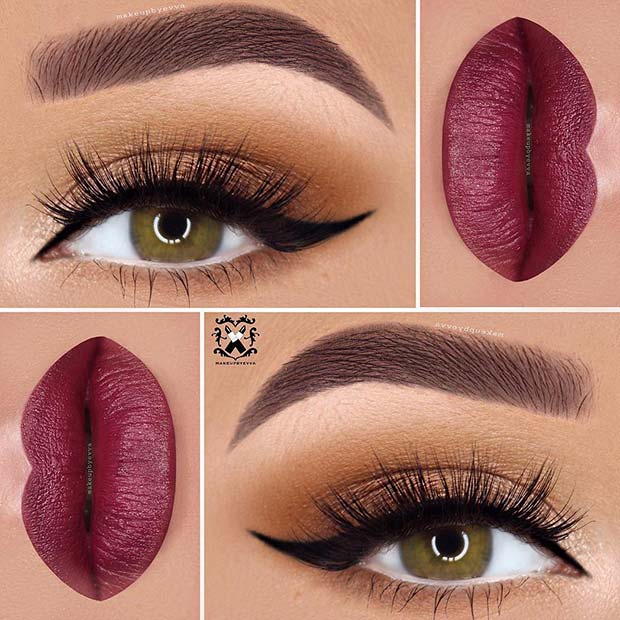 Something along these lines will be fashionable for Thanksgiving and even beyond. Hence, This fall makeup is one of the best thanksgiving eyeshadow looks.
---
18. Cat Eye Makeup Look
You cannot go wrong with a cat eye and long eyelashes for your final Thanksgiving makeup look. It's adorable, traditional, and straightforward to make.
Make your wings with a liquid liner (it may be as subtle or spectacular as you wish), and then apply a couple of coats of extending mascara.
Conclusion
Thanksgiving is quickly approaching. It is a joyful occasion where friends and relatives gather for food and enjoyment.
Because it is a special event, you must make the most of it by dressing up for the occasion.
Makeup is a simple way to liven up your look, so we've compiled a list of 18 of the finest makeup ideas for Thanksgiving. They are listed above.
Also Read: 12 Types of Beautiful Eyeshadow look you should try
Also Read: 5 Beautiful Classic Makeup Looks with eyeshadow 2023
Also Read: 10 Trending Holiday Makeup Looks That Will Be Everywhere in 2023