Top 25 Purple Eyeshadow Looks That will Give you Unique Look
Wanna look hot, wild, and sexy? Then, Go purple. It's a color that will never miss a chance to accentuate the gorgeous you.
And, if it's worn with a little sprinkled glitter in combination? Then, you have to start unwearing your sweatshirt and jacket because it's gonna raise the internet temperature and make you warm!
Wanna immerse yourself in such a warm pleasure? Then, follow our writeup and we will present before you 25 purple eyeshadow looks that are bound to turn everyone crazy. So, here we go…
1. Purple Poison:
How about getting some dramatic purple makeup looks in your eyes? Do you know, there are unlimited possibilities for it! And, the pic below is a specimen of it.
Just wear the bold eyeshadow makeup shown in the pic and be fierce, dauntless, and wicked like any poison in purple.
So, show the vibrant as well as the courageous side of you with this perfectly articulated makeover that can be listed as one of the best purple eyeshadow looks of all time.
---
2. Radiant Violet:
Have a love for violet and searching for a wonderful way to display it? Well, do it with radiant violet eye makeup that will be flattering on any skin tone.
Though it's a bit glorious and gives you an illuminating look if compared with other shades that give light purple eyeshadow looks, still, it will make you look fabulous if carried confidently.
---
3. Foxy Lavender:
Are you a green-eyed lady? Then, foxy lavender eye makeup is exactly what you need for emphasizing your glamour.
Craving for getting the tutorial of these purple eyeshadow looks step by step? You will find it below.
Just follow the steps and forge a gorgeous contrast of your green eyes with the foxy lavender eyeshadow makeup. We promise, your look will become an inspiration for many.
---
4. Dreamy Purple Pink With Cut Crease:
In the mood for something seductive? Then, bring the Dreamy Purple pink with cut crease makeup over your eyes in action!
Be it any date night, party with friends, or any other occasion, these types of purple eyeshadow looks will arouse the inner seductress in you and make you sinfully pleasant.
So, don the beautiful cut crease purple makeup looks over your eyes and draws people towards you in no time.
---
5. Purple Wings:
Wanna get a breathtaking look with purple-shaded eyeshadows? Then, choose this contemporary eyeshadow look with purple wings and catch the glimpse of its magic.
This is a spin-off eye makeup from the trendy light purple eyeshadow looks and is now in vogue, especially in the fashion industry.
So, in case you wish to create a pronounced as well as distinguished shape using your eyeshadow, just go for it.
---
6. Satiny Violet:
Hey, Gorgeous Ladies! Now let's have a look at this natural purple eye makeup in a light shade that will give a simple and soft look to your eyes but make you sexy at the same time.
Watch, the tutorial of the satiny violet-purple eyeshadow looks step by step and see the ultimate finishing. You will find the result mesmerizing.
---
7. Glittery Dazzling Purple:
Do you possess the treasure of brown eyes? Then, enhance the intensity of your eyes with glittery and dazzling purple eyeshadow looks!
The darker shimmery purples possess the capacity to highlight the beauty of your brown eyes appropriately and make them glow.
Have to walk to a fashion show or attend a celeb-style invitation party?
Hakuna Matata! Put on the glittery purple makeup looks by using the Huda Beauty mercury retrograde eyeshadow palette, carve a smile on your face and walk smartly. No one can stop you from flying high!
---
8. Purple Spring:
Are you romantic by nature and have an impending romantic date to go for? Then, natural purple eye makeup is what you require right now.
It will not only make you look natural but also sexy in the eyes of your date partner. Marveling, which purple makeup looks will suit you the most?
Go for the Purple Spring eye makeup. It's best for imparting a light and romantic look on anyone who wears it and will make your mood for the day!
---
9. Go Glam Purple With Blue:
Ever heard the proverb: "Old is Gold"? Well! It's applicable for this eyeshadow makeup. This is an 80's eye makeup trend that is now in fad again and will just blow you away!
This blue and purple eyeshadow makeup will be you a bright eye look and make you appear titillating. So, fast! put on this eye makeup and you keep on going girl!
---
10. Dusty Purple:
Okay, Gals! Now, how about some dusty purple eyeshadow looks? It's the right thing to give a perfect touch of romance to your relationship, isn't it?
What do you think? Have a glimpse at the following tutorial for the dusty purple eyeshadow looks step by step and feel the magic of romance yourself that it possesses.
---
11. Enchanting Purple With Blue Makeup:
Purple is a unique color that has the ability to blend itself magically with literally any color, especially the blues, and here's proof of it.
Look at the pic below…isn't the lady appearing super-glorious in this enchanting blue and purple eyeshadow makeup? Well! We can't resist looking at her again and again! What about you?
---
12. Go Smoky With Purple- Enhance Your Hooded Look:
Searching for an impressive natural purple eye makeup look? Then, go smoky and hooded using a purple eyeshadow palette and stun everyone.
Smoky light purple eyeshadow looks are always trendy and go-to fashion for all fashion lovers. You don't have to worry about the fading away of its popularity. So, wear it girl, and fly high!
---
13. Bubbling Intense Violet With Glitter:
Deeply enjoying the purple eyeshadow looks that we are presenting before you but getting confused at the same time – "which one is the most beautiful of all", right?
Well! We are enjoying it! Here's another eyeshadow look for you. It's incredible, isn't it? After all, each of our dark and light purple eyeshadow looks is exclusively picked up for you.
So, they are bound to compete with one another!
---
14. Intriguing Purple With Blue Make Up:
Why settle for a single color when we can blend purple with other daring colors as well? And, which color is the most daring other than blue?
So, go purple with blue this season and set an individual style statement with a blue and purple eyeshadow look. Also, don't forget to use multicolored glitters under your eyes to get a hot look.
---
15. Purple Gold Prominence Makeup- Sunny Purple Eyeshadows:
Want a standout yet simplified appearance within seconds? Then, forget all other colored eyeshadows and choose purple with gold.
These two colors in combination can give you a look that everyone will crave to get.
The light purple eyeshadow looks with gold will keep your face subtle as well as natural and bring your eyes to center stage.
---
16. Peachy Purple Elegance:
Enough of other purple eyeshadow looks. Now, let's bring peachy purple elegance to play and we bet it will win the game! Don't believe us?
Then, watch the below pic and discover it with your own eyes. We are sure, you will crave to apply this natural purple eye makeup on your eyes just after seeing it once.
---
17. Audacious Purple:
Wanna frame your eyes' shapes in a marvelous way? Then, apply this Audacious Purple makeup on your eyes and go bold and vivacious.
You can strengthen the look of this makeup by using false eyelashes and lengthening or volumizing mascara.
---
18. Stirring Blue And Purple Eyeshadow Look:
Why fear this society for bullying you all the time? Why pink should always be the color of a girl?
Change your color and attitude with a stirring blue and purple eye makeup and show the bolder side of you!
19. Hooded Purple – Simple Yet Sexy Eye Makeup:
We've discussed many beautiful purple eyeshadow looks but they do take some time to get completed.
Now, let's present a makeup look for those hooded-eyed ladies who are busy bees and don't have enough time for complicated eye makeup.

Here's a simple tutorial for the hooded-eyed purple eyeshadow looks step by step. You'll like it for sure! Just have a look!
---
20. Classy Purple Look:
Love a monochromatic appearance with purple? Then, this classy purple look with a slight smoky white on the corners may be your ideal suit.
Adhere to the tutorial video of these types of purple eyeshadow looks step by step and you will get a seamlessly perfect starry look that everyone will cherish to have.
---
21. Cute Purple With Pink Passionate Make Up Look:
Wanna get a full-on purple eye makeup look that will look spectacular on you? Try this Cute Purple With Pink Passionate eyeshadow appearance and watch the difference.
You will always want to stick to this look wherever you go – on any party or other occasion.
---
22. Purple Smoke With Blue Combination Captivating Eye Makeup Look:
This blue and purple eyeshadow look is slightly hard to recreate but is worth creating it.
The effects it will give are too hard to describe in words. Its magnificence can only be experienced with eyes.
---
23. Glittering Reverse Natural Purple Eye Makeup Look:
Why purple has to be dominating all the time when it can also give you a gorgeous appearance by remaining subdued under your eyes?
Apply purple colored shade below your eyes and any other colored glitter on your eyes' top.
Now, look at yourself in the mirror. Is it you or a celeb model who has just come after walking over the ramp?
---
24. Purple Half-Cut Crease Eyes Brilliant Look:
How about this irresistible dress-up of your eyes with purple half-cut crease makeup?
Isn't it looking outstanding? You can also add some glitter over your eyes to reinforce the fascinating makeup look.
---
25. Purple Graphic Liner Glittery Makeup:
Started loving the looks created by purple eyeshadows recently? Then, trust us! This unique purple eyeshadow look will double your feeling of love for that eyeshadow color.
Just use the purple eyeshadow palette for creating a graphic liner look over your eyes.
Follow the lady in this pic who has donned the shade over her eyes for herself and sprinkled some glitters over her eyes for enhancing the charisma of the look.
Celebrity Inspiration:
1. Olivia Munn:
This look is stunning, as it brightens Olivia Munn's eyes. She used light lavender eyeshadow on her eyelids and shimmery lavender eyeshadow on the inner corners and under the eyes. This is my favorite, and easy purple eyeshadow looks!
---
2. Shanina Shaik:
The bold purple eyeshadow fashion became popular among celebrities.
Shanina Shaik used a dark purple color from the purple eyeshadow palette in the transition area and lighter colors on the eyelids, a shimmery lavender color to highlight the brow points. Lastly, she topped it off with bold mascara!
---
3. Rihanna: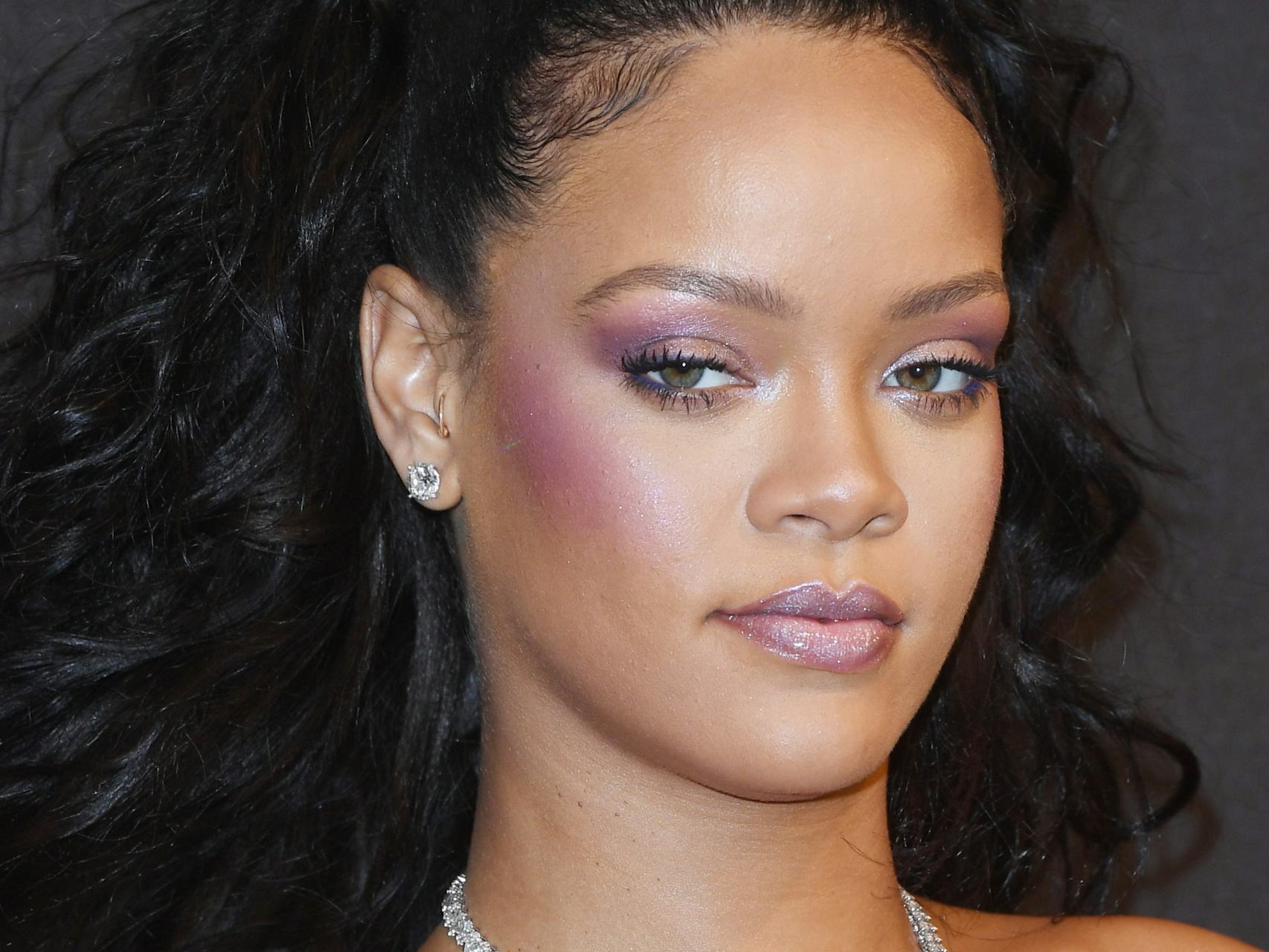 Rihanna, the Queen of Pop, is known for her bold looks! Here, she wore a dark purple shade on the transition area and shimmery light lavender eyeshadow on the center eyelids, which enhanced the purple color.
The celebrity wore blue eyeliner on the waterline of her eyes to make it bold!
---
4. Hailee Steinfeld:
Hailee Steinfeld is a famous pop singer and model. In this picture, she wore medium-dark purple eyeshadow on the eyelids and under the eyes.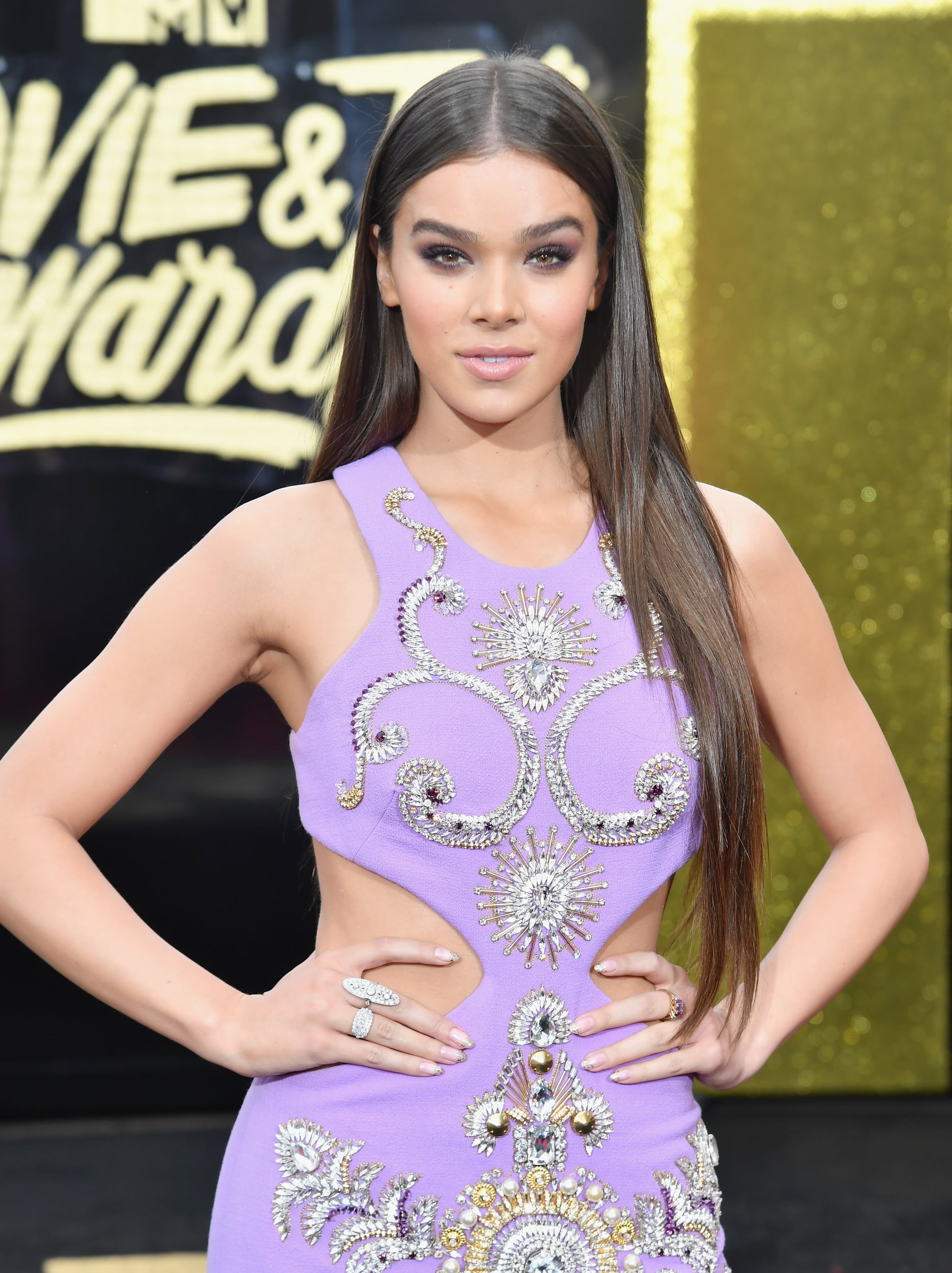 A light hint of shimmery shade on the lids makes it more beautiful. The black eyeliner and the mascara are top-notch! This is one of the easy purple eyeshadow looks ever!
---
5. Kaia Gerber:
Kaia Gerber wore a very bold dark purple eyeshadow that made her eye look bigger. She thoroughly blended it on the upper lids. This eye look suits her well, as does her orange outfit, too.
Even though it is a contrasting combination, it looks amazing on her. She drew bold black eyeliners on the eye and used mascara to create fuller eyelashes. Also, she used a shimmery gold color on the inner corners of the eyes.
---
6. Gigi Hadid:
Gigi Hadid is a famous runway model who rocks the fashion show with her stunning looks. She drew a line of dark purple eyeshadow on the crease line and pink on the upper inner corner of the eyes.
The beautiful, bold black wing eyeliner and the mascara on both lashes looked amazingly beautiful on her!
Purple Makeup Products:
1. Face and Body Paint:
This is a pressed powder that can be used for medium coverage makeup or as paint by slightly wetting it. It is from the brand Mehron's makeup, called StarBlend cake makeup.
This makeup product is perfect for your stage performance, play, Halloween, and much more. This product is made in New York with high-quality ingredients and, most importantly, is cruelty-free.
---
2. Purple Mascara Eye makeup:
Who doesn't love big, bold eye makeup? Here, I have this eye-catching purple mascara to make your eyelashes look bigger. It dries very fast; it's water-proof; it doesn't smudge; there's no clumping; and it lengthens the lashes.
It has a natural formula that volumizes your lashes to perfection. It is easy to apply, and I recommend this product to mascara lovers!
---
3. Powder Glitter Highlighter:
Highlighter is a must-have when it comes to highlighting and enhancing your makeup. It highlights the area and gives it a flawless look. This product is from Hosaily, which has a stunning shimmer face highlighter.
It has a very light, creamy texture that can be used as an eye highlighter, and it is very easy to apply. It is water-proof and long-lasting too. This lavender powder glitter highlighter can be applied to high points of the face such as the cheekbones, bridge of the nose, forehead, Cupid's bow, chin, and others. To highlight and can be given as a gift to your family and friends as it suits various occasions.
---
4. Eyeliner Pencil:
NYX PROFESSIONAL MAKEUP has a wide range of gorgeous, bold eyeliner pencils, and in this range, the shade purple goes well with any purple hue from a purple eyeshadow palette. There are various shades in this eyeliner pencil, and this purple will be an eye-catching color on your eyes.
It is super pigmented and has a shimmery finish. Sharpening the mechanical pencil saves you time. This cruelty-free product is smudge-proof, long-lasting, and glides smoothly on your eyes.
---
5. Liquid Suede Cream Lipstick:
This liquid suede cream lipstick is from NYX PROFESSIONAL MAKEUP, which provides cruelty-free cosmetics. Nowadays, customers are seeking matte finish formulas in every product they use. So, Matte lovers! This lipstick is perfect for you guys!
This highly pigmented matte liquid lipstick is long-wearing because of the vitamin E and avocado oil in it. It has a creamy texture makes your lips velvety soft and won't dry at all. Matte finish products dry easily on the skin, but this lipstick nourishes your lips, so you never have chapped lips.
Wrapping Up:
In summary, purple has become a popular color in the world of makeup, and for a good reason. Its unique hue can add a touch of sophistication and mystery to any look. Many celebrities I mentioned above have been seen wearing purple makeup on red carpets and in their everyday lives.
From eyeshadows to lipsticks, there are endless ways to incorporate purple into your makeup routine. Hope you guys have an idea of how to recreate the celebrity purple look and purchase purple makeup products and incorporate them into your makeup routine.
Whether you choose a bold and daring look or a subtle and elegant one, purple is a versatile color that can elevate any makeup style. So why not add a pop of purple to your makeup collection and channel your inner celebrity?
Also Read: Top 15 Cool-Toned Eyeshadow Palettes in 2022: Get Perfect Look
Also Read: 12 Types of Beautiful Eyeshadow look you should try