15 Best Nail Color for Pale Skin: Nail Shades and How To Apply!
Choosing the appropriate nail color that would suit the skin tone has remained a challenging task. Similar to the foundation or lipstick you apply, you can't even use all the nail colors on your ten fingertips.
It won't look nice right? Invest some extra time in finding what's your undertone and accordingly think about nail painting.
Those having pale skin often stand in a mid position before choosing the utmost bright color and nude shades. Even though we are not differentiating between dark, brown, yellow, or pale skin tones, we intended to make your two hands look artistic and beautiful.
So, this article will focus on the best nail color for pale skin, top nail polishes for pale skin, and more.
How to select the perfect nail colors for pale skin?
The best way to decide the fair skin nail colors for pale skin is by knowing your pale skin's undertone in sunlight. As skin experts have observed, the pale soon has two to three natural undertone colors.
The mostly found one is the alabaster neutral tone and the rest usually have either peachy pink or olive undertone.
Before judging the good nail colors for pale skin, you at least should have properly recognized the undertone skin color. Here's an easy tip: Just place your hands in the normal sunlight and carefully observe, if the veins turn the following:
For veins with purple bluish color – they have a peachy pink undertone.
For the green tint on the veins- you have a yellowish undertone.
Those having a neutral undertone won't find any of the vein applications.
If you follow the nail color depending on the natural undertone your skin has, then trust us your skin will glow completely.
---
Best Nail Color For Pale Skin with Different Undertones
Now that you have some ideas about your skin texture, natural undertone, etc, it will be an easy nail painting endeavor for you.
1. Nudes With Touches of Tint.
If you want to keep it simple yet sophisticated then follow nude touches by your heart. Although the biggest plus about pale skin is that every shade of nude color would suit them.
But to those who are into precise nail practices, we would recommend nude shades to cool peachy pink undertones mainly. Why because the light color is made for them! So, here's our nude best nail color for pale skin picks.
The 0.5 oz of nude gel polishes consists of shimmery or glossy finishing types on adult nail type. Applying the nude gel nail colors for pale skin by memeda is super easy.
All you have to do is: Fill your nails with the base coat> Apply a thin layer of the gel polish and then place it in the UV Lamp> Reapply the gel coat and then again cure it within the UV lamp> Once dried, coat your nails with the thin layer of no wipe coat and place it within the UV lamp.
Nude Neutral Gel polishes by Memeda (Available from $7.99-$8.99)
The gel polish set arrives with the base coat; color gel polish and the Memeda top coat likewise. Different nude shades of lavender, peach pink, and white milky tinges are available on Amazon to place your order.
---
2. The Nude originals.
The Essie nail paint will make you feel the original vibe amidst grand celebrations. If nudes are made for pale skin then glossy nudes should lead the show.
The end finishing type of the Essie nail paints is glossy and is made with salon-quality formula. We inquired on Amazon about what's so special with Essie nudes as the best nail color for pale skin. And we have got to know about these special features:
The company is committed to its ethics of no animal testing
Their formula is free from Toluene, DBP, and Formaldehyde.
They also serve flawless coverage alongside maintaining extraordinary nail quality.
With Essie's nude but glossy nail color type, two particular shades are our favorite: The ballet Slippers ($5.47) and the Blues ($5.29), both available in 0.46 bottle quantity.
Glossy Nudes from Essie Store (Price Range $5.00-$7.90)
The Essie Manicure set is perfectly set in with the four bottles; the base coat, Essie original colors, Top coat, and apricot cuticle oil (for hydrating your nail edges and cuticles).
---
3. The Iconic Holographic Good Nail Colors for Pale Skin
Having neutral pale undertones? Voila! Those pretty holographic gel nail colors are just made for you.
The Revlon enamel mirror impression nail polish creates a salon-motivated photographic and metallic effect on the nails. All you have to do is:
Apply the multi-care base coat to cleanse the nails and let them dry for the next 3-5 minutes.
Use two coatings of the nail enamel and significantly dry it.
Call it a closure with the extra life no chip top coat for creating a glossy impression.
The Revlon nail enamel hologram pack does come with cuticle oil essentials that give a healthy look to the nails.
Here are the top holographic shades: hologram, Unicornicopia, Amethyst Smoke, Molten magic, Diamond texture, and Sophisticated shade. All these shafts will dry quickly and won't fade instantly.
Revlon Nail Enamel Holographic paints (Price range from $6.05-$11.00)
However, the only concern we figured out with the reckon enamel nail polish set is that while applying it forms bubbles and disrupts the smooth flow.
---
4. The Ombre Shades For Pale Skin.
You can express more of your current mood by filling your nails with the Ombre polishes. The specialty of the ombre nail is that they follow no rules.
You can apply any of your favorite colors with grace. We used the Allenbelle color-changing nail polish available within the price range of $14.00-$16.00 depending on your location.
---
5. The Glossy Sequin Night!
Imagine you are at a party and instead of any grand outfits your nails steal the spotlight. Sounds sexy! Isn't it? Get used to it with the Born pretty sequin holo collection.
Born pretty creates good nail colors for pale skin by including organic ingredients in the formulating process. All their nail polishes are oil based therefore last up to two weeks, consisting of mineral pigments and nitrocellulose to prevent damage.
The sequin nail polish range is of 7 ml quantity therefore, lasts longer. The nail bottles specialize in the three-layer formula.
Sequin Nail Polish from Born Pretty Store ( from $9.99)
Born Pretty nail shades include: Silver glitter sequin holographic polishes; black thermal glitter color; pearl shell nail polish with mermaid polarized glitter; a pink thermal glitter polish; silver trim super shine shade and pink purple thermal glitter nail polish.
---
6. The Great Metallic Nail Picks
Again an eye treat for pinkish undertone pale skin. The gold or silver metallic fair skin nail colors for pale skin would flare out your bold personality exceptionally well.
The perfect golden metallic shades include bronze ambition metallic painting gel set by U-Shinen at $9.99. The other top-quality silver metallic nails would include the elixir, rearview or molten silver shades.
---
The Bloody Show! (The interplay of Red and Black)
7. The Red Essentials.
We are particularly excited about bringing about the best nail color for pale skin in the combination of red and black.
Before going to the ox blood red or the covo cola red tones, you can also try some lighter red tint polishes. But for mature hands, we would suggest trying out the cheery bomb, Monroe's Red, for all or got pursuit tinges.
Our top pick nail brands for those colors are-
Venalisa Carmine's red color soaks off 15 ml gel polish. (At $8.99 in 0.53 OZ quantity)
Essie Expressie not so low key Quick Dry Vegan Nail Polish, each bottle of 0.33 ounce at $8.65.
Sally Hansen Insta Dri Anti Chip Top Coat 45117 nail color, at $ 6.99 of 0.45 fl ounce.
---
8. Greenish Nail extension!
When we share about green nail extensions we are specifically referring to gel green polish.
The emerald green 15 ml nail polish from Venalisa gel polish would give a salon effect in only the $7.9 price range. The natural resin is harmless for your skin with a refreshing none toxic odor.
---
9. The Chilly Coca-Cola Red Nail styles.
Here's our Grand recommendation, the Coca-Cola red O.P.I Nail Lacquer each available for $11.49 for 0.5 fl oz.
The biggest advantage of coca-cola nail polish is that they have a lasting effect, and contain premium quality ingredients, steak-free applicability, and chip resistance.
---
10. The Black Knock Out!
Why should red steal the show only when you can knock it out with the gorgeous black paint? The black Revlon nail enamel knockout shade extends the time and costs of the anti-fade formula.
The knockout nail paint contains a quick drying non yellowing effect and effortless brush application which glides smoothly. There are in total 47 shades available other than the intense black point.
---
11. The Red and Black Alternatives.
Yellow undertone with fair skin nail colors for pale skin would enjoy the interplay of red and black nail shades in their alternative nails. It looks hot and elegant at the same time.
The red-black nail polish kit by morovon nail store would create an extravagant look for your pretty nails. Both the shades easily soak off the nails and give more shine even at home.
---
12. All Lite, With Pastels.
Pastel particularly of lite shades such as turquoise blue, peach pink, or lavender tinges would also remain perfect for any official visits.
As a part of the best nail color for pale skin, we have sorted the light use pastel tones like the cyber peach, prelude to kissing, doll purple or forget me not shades.
GAOY Jelly pink gel nail shades are available at 0.25 fl oz at $15.99.
Gellen Gel Nail Polish kit of 0.27 Fl oz quantity at $9.99 or more.
Otherwise, you can try out the OPI Nail Lacquer blue or pink polishes to prepare some aesthetic nail profiles.
---
13. Not So Boring Monochromes: Best Toe Nail Color For Pale Skin
Who said that monochromatic nail shades are boring and nothing special about it? You can apply some alternative best toe nail color for pale skin to set out a quirky or funky mood.
How about trying out different shades of azure such as Cobalt, navy, sky blue, or sapphire in one go?
---
14. The Sunset best Toenail color for Pale Skin.
We doubt you are any nail experimentalists if you can't dare paint in tune with sunrise to sunset color tone.
You can plan to implement such a look by brushing the somber or dusky textures, fiery oranges, or red! The pop-up colors like the Lakme True Wear nail shades won't offend you in transforming the nail looks.
---
15. French tips with Transparent nails.
The real French tips are on trend which give a glowy but minimal impression to your nails. While speaking about French tips, no one can miss Danni and Toni's semi-cured gel nail stickers at $ 17.99.
It was a bit pricy but trust us you won't regret it!
---
Bridge the Gap with Best Nail Color For Pale Skin!
From transforming into an over-expensive nail look to maintaining minimalistic nail paints, we have arranged the top picks for you.
Test out the best nail color for pale skin so that it covers your natural pale undertone and makes your nail shine more. Not only your hand nails but the best toe nail color for pale skin are also shared above. Let us know your favorite in the comment section!
---
FAQ
Q- What color is nail polish for pale skin?
Mostly all nail color suits the pale or fair skin tone. But as we recommended above, choosing the nail shade based on your undertone would help make your nails look more natural and artistic.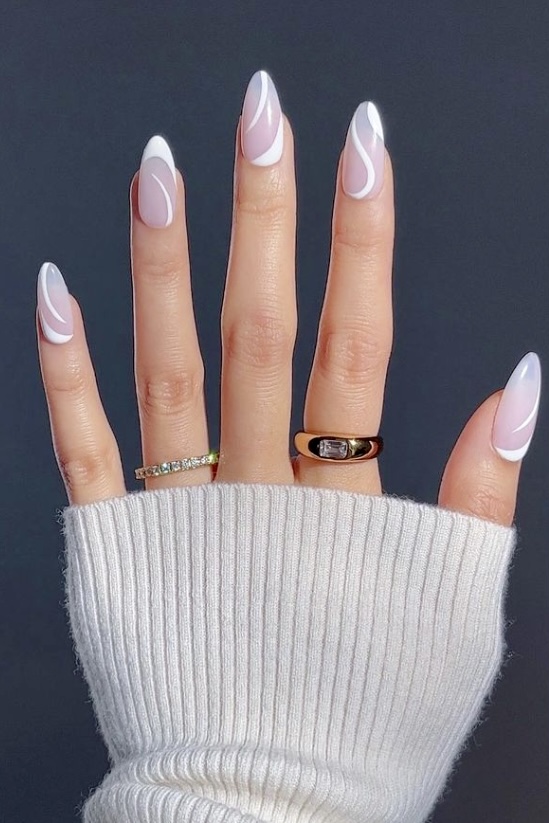 Particularly metallic, deadly red, or holographic shades are for the nails on your hands. And the best toe nail color for pale skin is for us the monochromatic nail shades.
Also Read: 25 Attractive Cute Spring Nails art and designs for 2022
Also Read: Try 15 Different Shades of Brown Nails: Be Creative