40 Modern Hairstyles For Lehenga That Will Make You Look Pretty
Be it a wedding ceremony or other traditional ceremonies, wearing a lehenga and stunning everyone with its beautiful look is a dream of every Asian woman.
But, when it comes to choosing a hairstyle for the lehenga, most of woman fails to choose a perfect one that matches their lehenga look.
The hairstyle they choose gets mismatched with their lehenga and their whole effort for bringing in a gorgeous look falls flat.
So, all the ladies out there! Reflecting on your convenience, we have selected for you 40 modern hairstyle for lehenga that will never let your style go unappreciated. Feeling impatient to experience them with your own eyes? Well! Here they go:
Open Hairstyles With Lehenga:
1. Gorgeous Loose Curls With Attached Flowers:
Wanna look dramatic in a lehenga by keeping your hairstyle simple? Then untie your curls and let them hang loose. Also, adorn them with some flowers.
It will impart a modern look to you by maintaining a touch of tradition. Have a look at this let-loose curled hairstyle.
Don't you think it's one of the best options for open hairstyles with lehenga? Well! We don't have any doubt about it!
---
2. Bottom waves with Braided flower hairstyle:
Do you love wavy hair but are born with straight hair? Then, this modern hairstyle for lehenga will fulfill the desire for which you was craving for so long.
With it, you will get wavy hairs at the bottom either by using the hair curling device or visiting a hair parlor. And, just look at the braided flower! It's so eye-catching yet simple to get.
Just create two braids on each side of your head and combine them together to originate this beautiful flower at the center. Festoon the braided hair with some pearled pins to accentuate the bridal appearance in lehenga.
---
3. Make Your Hairs Roll To Look Like A Doll:
Now, have a glance at this bottom-rolled hairstyle. It's one of the popular loose open hairstyles for lehenga this season.
Don it with a peach-colored lehenga choli and make everyone flat with your beautiful and alluring appearance.
Wait! Don't forget to accessorize this hairdo with a white-colored hair clip or accessory like the model here is wearing on her hair! It will help you to totally go for a barbie doll look.
---
4. Jewellery Studded Voluminous Waves Hairstyle:
Do you possess the natural gift of voluminous hair? Then, this lehenga makeup and hairstyle is all yours!
Pair this hairstyle of loose blow-dried tresses with a heavy accessory over your head (such as a tikli) and a heavy-designed lehenga and go glamorous.
---
5. Intense Curly Hairstyle With Butterflies:
Come any wedding season, butterflies start running through our stomachs, especially when someone talks with the guardians about our adulthood and marriage.
Now, let those butterflies run over your hair and make you look pretty. Clip some false butterflies over your intensely curly-shaped hairs.
---
6. Side-Way Hairstyle With Roses:
How about this awestruck wedding collection hairdo selected from the collection of open hairstyles with lehenga? What do you think about it?
Isn't it enough to steal everyone's heart away? Comb your hairs sideways, make them somewhat wavy and allow a long thin braid to pass from the middle of those open hairs.
Also, pinning up some white, pink, and red colored roses on the hair beside your ears will reinforce the magnificent look of your hairstyle and you.
---
7. Middle Parted Plain Open Hair Hairstyle:
Wanna get the look of another mindblowing hairstyle that will yank everyone's appreciation for you? Then, this lehenga makeup and hairstyle is an excellent fit for you!
It's more than a delightful plain hair hairdo and no one can ignore its fascinating look after seeing it once. Cover some portion of your head with a dupatta for that homely yet contemporary look.
---
8. Slightly Puffed Half-Side-Half-Back Hairdo:
This amazing modern hairstyle for lehenga has a very special place for us and so we selected it, especially for you!
Here, the hairstylist has divided the entire hair into two portions half for the sideway and half for the back.
The twist in this hairdo is its slight puffing over your head towards the sideway and it has made us spellbound.
---
9. Subtle Hairdo Fashion With A Hairband:
Shouldn't we deserve a great thanks for choosing this reflective hairstyle for you among various loose open hairstyles for lehenga? If not thanks, at least give a big smile 🙂
This is a great hairstyle for achieving a softer look without much effort. Stay simple as well as subtle and your hairband will do it all.
Oh, lady! Don't give such a shying smile with your hairband on! We will suffer from insomnia after seeing you so many times!
---
10. Middle Parted Open Hair With Front Braids:
Want that cascading look in your hair that flawlessly harmonizes with your lehenga? Then, stop dwelling on other loose open hairstyles for lehenga and try this minimalistic hairdo.
All you need to do is part your hair from the middle and braid a little for both sides on the front. Keep the remaining hair open and loose. Congratulations! You have accomplished it!
Bun Hairstyle On Lehenga:
11. Braided Messy Low Bun With Loose Parted Side Hairs:
Wanna ooze out the modern-world charming look from your hairdo? Go messy with your hair and tie up a low bun.
Trust us! This bun hairstyle on lehenga will shower you with a super-elegant look. Though optional, you can make braids on the sideways of your head.
Also, leave some hairs loose on both sides of your face so that they hang beside your ears. It will impart you the look of a careless beauty.
---
12. Middle-Parted Straight Hair Bun:
Want a modern hairstyle for lehenga that will instantly glam up your look? Then, we suggest you…go for this modern bun hairstyle. It's so easy!
You can accomplish this hair look by parting your straight hair from the center of your head into two portions and tieing a knot or bun at the lower backside of your head by combining those portions of hair.
Also, add a stylish pinch to your hairstyle by puffing the hairs present at your head's center and adding some multicolored roses on one side of your bun.
---
13. Straight Hair Braided Bun:
Who doesn't want to get a wholesome look at a party by wearing a lovely lehenga and a braided matching hairstyle with it?
And, when that hairstyle is a braided bun hairstyle on lehenga, we know that you can't wait to experience it. So, here's the new braided bun hairstyle for you. Catch it and play it with your style.
Top some Jasmines over your braided hair (side and back braided hairs) to get that appearance for which one aspires on her wedding day.
---
14. Multi-Braided Bun Hairstyle:
Wanna go intensely braided this season for your hair? Then, try this grand multi-braided bun hairstyle with small white flowers studded on it paired with your multicolored stone studded pretty lehenga.
Be it your own wedding ceremony or your friend's, this lehenga makeup and hairstyle will never go wrong. With it, grab the attraction of the guests in a unique way.
---
15. Multi-Puffed Hairstyle With Voluminous Messy Bun:
Wearing a pink lehenga and wondering which bun hairdo will suit it best? Here's a trendy new hairstyle for you that is perfect for any engagement party and will certainly add cuteness to your pretty look.
Believe us! If you are a young round-faced teenager whose youth is brimming with beauty, then this modern hairstyle for lehenga is solely made for you.
Stud some pink flowers on the side of your bun to match the look of your lehenga and hairstyle.
Hairstyle On Lehenga For Short Hair:
16. Sleek Open Hair:
Who said girls with short hair lack options when it comes to picking a hairstyle for a lehenga? Have a glance at this pic and you will never say it again!
We found this sleek and sexy hairdo no less attractive than various long-haired open hairstyles with lehenga. We bet, this hairdo will never let you down in front of others.
---
17. Short Wavy Open Hair Hairstyle:
Here's another hairstyle on lehenga for short hair that we've specially picked up for you. Just cut the hair short and make it wavy. This hairdo will give you a straight, stylish, and clean look at the same time.
The only thing you have to do before attaining this hairdo is to make sure that your hair is thoroughly shampooed and dried.
---
18. Side Parted Hair With A Wavy Pattern:
Want to get that simple yet luxurious look with your short hair? Then, choose this hairdo among various loose open hairstyles for lehenga.
Don't worry… it's just a matter of a few minutes. Just part your hair on the right side and do a wavy pattern with your left-sided hair. No one can stop you from getting an enchanted look.
---
19. Smooth Bob Cut Hairdo:
How about this hairstyle on lehenga for short hair? Isn't the lady in this hairstyle wearing a lehenga looking handsome?
Of course, she is. This hairdo will give you an effortless glorious look to such an extent that you have never imagined before. So, don't underrate the power of this short-hair look.
---
20. Voluminous Bob Open Hair Hairdo:
Do you want to wear a lehenga at a wedding party but really bothered about your small hair? Fret not! Just relax and this modern hairstyle for lehenga will do the job.
With it, your hair will look both smart and voluminous. You can pin up one or two fresh flowers on the hair beside your ears to bring the desi look that fits perfectly with the lehenga.
---
21. Braided Fall Hair Hairdo:
Short of idea for short hair lehenga makeup and hairstyle? Then, count this hairstyle in.
If your desire is to make yourself presentable with an off-beat yet elegant hairstyle for an engagement party, then this sleek yet messy hairdo will make your day.
---
22. Braided Hair Ponytail Hairstyle:
Looking for another hairstyle on lehenga for short hair? Then, this braided ponytail hairstyle is so ready to serve you.
You can also bling it up with a few accessories by settling them over the starting point of your ponytail.
---
23. Double Dutch Braided Hairstyle:
Enough of another modern hairstyle for lehenga! Now, let's play with some braids and win the look-over.
How about this Double Dutch braided hairstyle? Don't you think it will make you win the game effortlessly in every situation without letting you down?
---
24. One-Side Clipped Hairdo For Short Hair:
Bored of different short hair hairstyles to such an extent that at present, you're seeing everything in black and white?
Then, adopt this hairstyle on lehenga for short hair. Just throw in some accessories over your hair and bring the color back to your life.
Make one side of your hair steady with some clips and let the other side flaunt its waves.
---
25. Smooth Hair With Falling Braids On Sideways:
Have a love for braids and searching for their variety so that you look unique? Then here's the hairstyle on lehenga for short hair that you are searching for.
Smooth hair and braids run hand in hand. Comb your hair nicely so that it gets a smooth glossy appearance. Now make two falling braids sideways and allow them to fall.
Hairstyles For Lehenga For Medium Hair:
26. Front-Braided Straight Hairstyle With Rolled Bottom:
Look at this hairdo… Aren't you feeling itchy to try it out with your lehenga? Well! It's that attractive…not your mistake!
Impart some desi vibes to this hairstyles for lehenga for medium hair by covering your half-portioned head with a dupatta.
---
27. Medium-Length Hair With Bun:
You know! Sometimes a medium-length bun can do wonders! Don't believe it?
Then, wear it like Deepika and you will realize yourself about this lehenga makeup and hairstyle. Have medium-sized hair and so the knitted bun is medium in length?
No worry make it up with a little puffing at the frontal part of your head.
---
28. Braided Bun For Medium Hair:
Wearing a hybrid lehenga and wondering which hairstyle for medium hair will suit it best. Go for a medium hair braided bun hairstyle on lehenga, look at the mirror and you will find a different you.
The artfully pinned-up white flowers on the bun are an extra adornment that adds charm to the overall hairdo.
---
29. Chic But Easy-to-go Messy Bun Hairstyle:
Break the monotony in the bun hairstyles for lehenga for medium hair with this messy and effortless look.
Also, add a note of surprise to this look by garlanding the bun with white flowers. And, we can predict, you will look no less than a princess.
---
30. Retro-Fashioned Hairdo:
Hey! Retro hairstyles are back again with a new look. Why not try it like other modern hairstyle for lehenga?
Go for this retro hairdo once by pinning up a few large-sized blood-red roses on your hair and your look will say it all!
---
31. Ponytail Ponytail Hairstyle:
It's time to adorn your hair with some jewels or crystals whose color matches the color of your lehenga. And, ponytail hairstyle is great for that purpose.
So, why keep yourself from trying the jeweled ponytail hairstyles for lehenga for medium hair? Do it now and bring out that extra magnificence in you.
---
32. Medium-Length Side Braided Hairstyle:
This simple hairdo speaks something extraordinary and gives you that incredible look you need to depict at your wedding party.
With this modern hairstyle for lehenga, you will never go out of fashion.
---
33. Tri Rose-Shaped Braided Hairstyle:
Chop chop! Cut Your hair into medium-length and still look beautiful in a lehenga…is it possible? Yes, it's definitely possible with this rose-shaped braided hairstyle.
It's one of the open hairstyles with lehenga for medium-length hair that highlights your youthful beauty and grace. Just make beachy waves on your hair and prepare some braids to turn them into rose shapes.
You have never looked more glamorous than the look this hairstyle splashes on you.
---
34. Fishtail Braid:
No one can deny that a right hairdo boosts confidence in a person. And, such a hairstyle among various hairstyles for lehenga for medium hair is a fishtail braid.
With it, you can rock any engagement party or wedding party freely as a bridesmaid.
35. Messy Rolled-On Hairstyle For Medium Hair:
This is another classy hairstyle that falls in the family of hairstyles for lehenga for medium hair. It will give you a fuss-free vibe and justice to your neckline.
With this hairstyle, you will look dashing on any occasion and surely grab the attention of all the people out there.
Miscellaneous Hairstyles For Lehenga:
36. Open Hairdo With Backside Hair Traversing Braid:
Wanna test your look with a candid silhouette-type hairstyle? Then, here's a sample for you of one of the loose open hairstyles for lehenga!
Create a traversing braid and run it over the hair at your backside and wave your hair a lot at the roots for cultivating the drama.
---
37. Messy Updo For Medium Hair:
Bun hairstyle doesn't always mean you have to go traditional. The reality is that buns can also be made in a modern way and many things can be done to give them a modern outlook.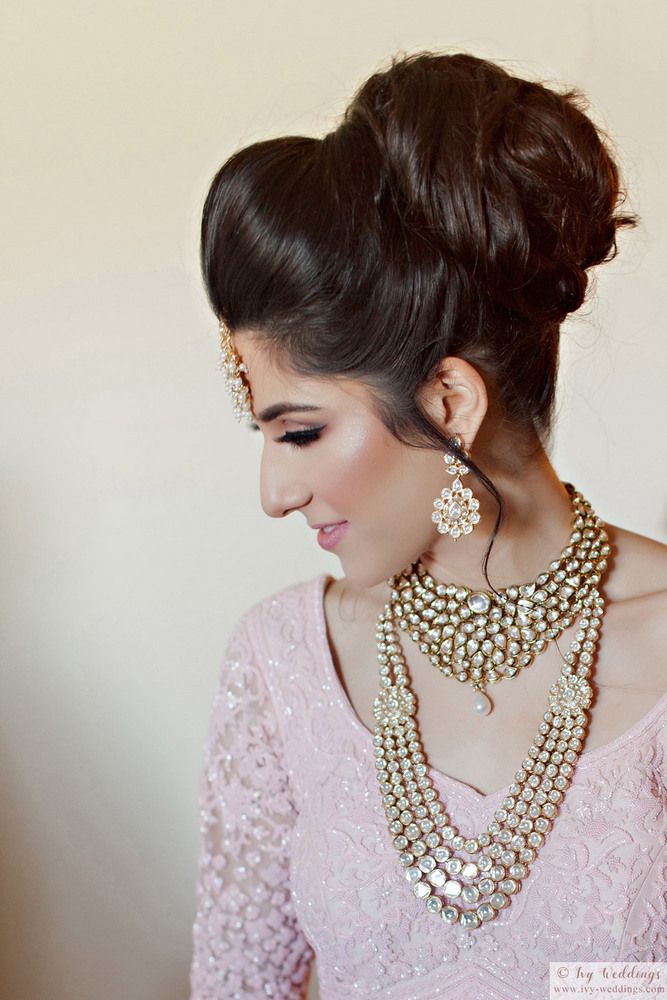 Just see this messy updo…its effortless to create such a manageable bun hairstyle on lehenga and look…how beautiful it is looking!
---
38. Half-Up Medium-Length Hair Romantic Hairstyle:
Going to attend a romantic date wearing a lehenga? Then, you have to try something exotic on your hair. And, this half-up medium-hair hairdo is just appropriate for that.
This exquisite hairstyle, which can be listed as one of the best open hairstyles with lehenga, is a true inspiration for those who want to be the showstopper of any event by keeping it simple.
---
39. Fascinating Voluminous Ponytail Hairdo:
Do you know, sometimes a single ponytail can bring an esoteric turnover to your look and make you appear like a celeb?
This modern hairstyle for lehenga is an extremely snappy hairstyle that you can tie up within minutes so that your hair looks pretty and voluminous.
Having medium-length hair will give you a grand opportunity to adopt this hairstyle and it will be unwise on your part to miss such an opportunity.
---
40. Striking Bun Hairstyle For Long And Medium Hair:
Still, looking for a unique kind of bun that will save you on that big day? Then, this contemporary bun hairstyle on lehenga is the end of your journey.
This unique hairdo is an incredible way to put in fun details to your straight, long and fine hair and is adequate to captivate people towards you.
---
Wrapping Up:
So, choose your favorite modern hair design today and get ready for the occasion.
Also, expect loads of compliments from others on your big day because you are going to stun everyone with your glorious look today!
Also Read: 41 Modern Trendy Hairstyle For Saree You Must Try in 2022