Discover The Latest Modern Egyptian Clothing Trends And Designers 2023
Modern Egyptian Clothing 2023 – BEST Egyptian Fashion Designers and Trends
Egyptian fashion especially modern Egyptian clothing or outfits is in the air nowadays. And, fashion designers are focusing more & more on making unique styled Egyptian dresses & fashionable items to grab the attention of fashion lovers.
The modern Egyptian clothing female designers are already conquering the market for their exceptional Egyptian dress style that they periodically exhibit in various international fashion shows or events.
The Egypt outfits made by them are so impressive that you can't keep yourself from being a fan & follower of them. Wanna know the name of such designers who are presenting an irresistible collection of their Egyptian-styled fashion outfits for Egypt & other countries one after another?
So, here are the names of such 7 designers who design various fashion accessories & outfits for Egypt & their signature styles:
1. Farida Temraz & Her Fashion Robes For Egypt:
When the discussion is about modern Egyptian clothing & outfits, the first name that comes to our mind is Farida Temraz. When & how did she get so famous? She debuted her Autumn/Winter collection of clothes in the 2014 Paris Fashion Week & then she never looked back.
Her Egypt outfits collection yanked first place in both Paris Fashion Week & New York Fashion Week (Best Couture Designer in Female).
Being the only Egyptian fashion designer awarded with so many outstanding awards, she has captured the hearts of numerous fans. Her specialty in Egyptian outfit designing is an exceptional use of drapery & touches of gold. Her opulent Egyptian clothing matches none of the other designer's work.
You will always find her gowns a harmonious medley of opposites. They have a boasting sleek construction, coupled with panels. Temraz's brand, Temraza is inspired by the ancient Pharaohs & never forgets to pay homage to its artistic & cultural roots.
2. Aya & Mounaz's Okhtein Egyptian Collection:
Egyptian fashion is not only famous for costumes but also for their matching handbags & accessories. And, Aya & Mounaz's Okhtein proudly displays its Egyptian collection of various artistically crafted brass & embossed leather handbags.
All these designer bags embody Egyptian artistry & craftsmanship & are used by various high-profile celebrities like Beyonce, Kris Jenner, Gigi Hadid, etc.
3. Farah El Ashiry's Fufa Fashion Garments For Egypt:
There's a saying that "Old Is Gold". Farah El Ashiry followed it with her whole heart. She took inspiration for running her garments business & growing herself as a fashion designer, from her grandmother & her widespread collection of fabrics.
She named her garments company, Fufa (an Egyptian bohemian brand). And, now her business is touching the sky with the brand's immense popularity & also of her as an Egyptian fashion designer.
When Farah first established her Fufa, she was not an expert in this field & had very little knowledge about Egyptian dress style & various fabrics. Yet, she never let her passion go down. And, look! Where she is today! Her garments are not much intricate but simply straightforward. The uniqueness of her garments is that each print of her garments exemplifies one of a variety & symbolizes Modern Egyptian clothing.
4. Dina Shaker & Her Fashion Brand:
Dina Shaker founded 'SPICY', her 1st fashion brand for modern Egyptian clothing, in 1990 (Alexandria). Her brand clothes are inspired by archaic Egyptian clothing & imply the empowerment of women, their strength & liberation. However, she always designs her brand's clothing with a modern twist.
Brimming with personality & attitude, her clothing items range from various dresses to trousers. Today, her fashion outfits for Egypt are traded all over the world, especially in Cairo, London, Beirut & Paris.
5. Hana Othman & Her Zahan Egyptian Fashion:
Are you a selfie enthusiast who always loves to do twinning with your daughter? Then, Hana Othman & her Zahan Egyptian fashion has something for you.
Othman is the 1st designer of Egyptian outfits who participated in Russia's St. Petersburg Fashion Week with her haute couture children's collection & her brand is creating a storm in the fashion industry. So, match your gown with your daughter's by choosing a set of dresses from 'Zahan' & enjoy twinning.
6. Amina K & Her Modern Pharaoh Inspired Egyptian Outfits:
Like Farida Temraz's outfits, Amina K's modern Egypt outfits are also inspired by the traditional clothing of Egyptians for Pharaohs. However, her modern Egyptian clothing comes with a twist. Amina Khalil studied fashion design & earned a chance to participate in the ethnic-inspired garments' fashion scene.
These ethnic-inspired garments were made by Egyptian crafters from local textiles. Khalil has today established a business on fashion wear & accessories for both men & women. Her impressive range of men's shirts, women's wear, accessories & eyewear are globally popular nowadays. Each piece is unique in its way & fits everyone's style.
7. Yasmine Yeya's Maison Yeya & Its Luxurious Bridal Textiles:
If any Egyptian designer excels in designing modern Egyptian clothing female garments or textiles, it's none other than Yasmine Yeya. Her modern Egyptian clothing gowns & textiles are so luxuriously designed that you can't help staring at them for a long time.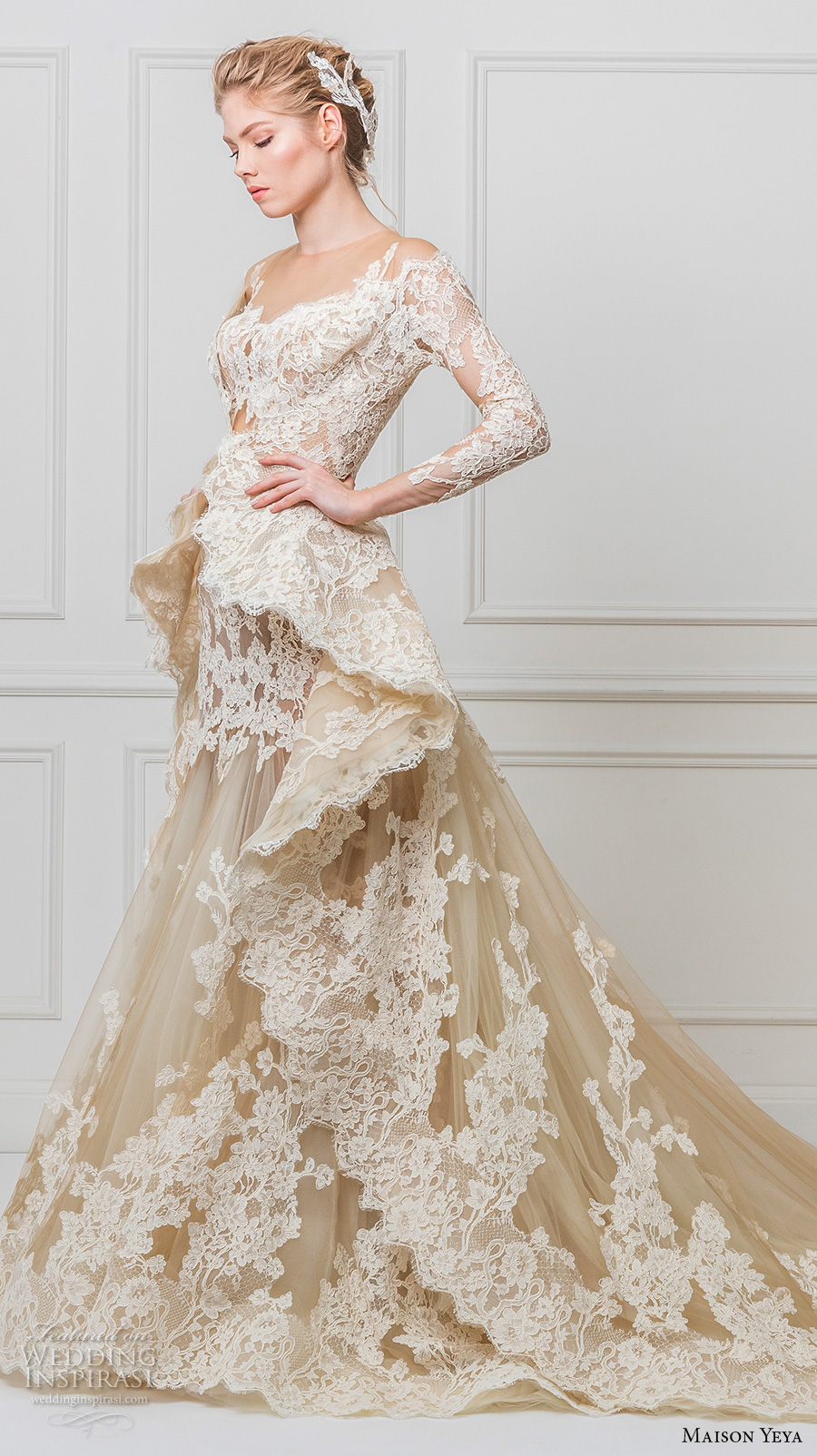 Maison Yeya's mesmerizing gowns, which are constructed in various luxurious textiles such as silk chiffons, duchess stains, etc, have greatly impressed the audiences worldwide with their sculpted drapes & smoothed crafts. The gowns celebrate the modernity of various traditional cum elegant women.
Yeya's emergence into the fashion-related industry was not preplanned. She started designing clothes out of fun. But, soon she realized that it could also be her career if she seriously focuses on it. At present, Yasmine is dressing several brides all around the world & her business is running like a rocket in the sky.
Wrapping Up:
So, who out of the above Egyptian fashion designers is your ultimate choice for modern Egyptian clothing? Let us know & we will come here again with the names of some fashionable dresses your favorite designer has made.