50+ Best Mehndi Designs for Girls That are Easy to Recreate
Nowadays there are several mehndi design for girls. You have an idea of the design you can get through this post. But first, get some knowledge about mehndi. Mehndi is a cultural practice that involves applying a paste formed from powdered, roasted, and ground botanicals to the skin, typically on the hands, feet, and body, with dried henna leaves.
It usually leaves a cherry-red to brown stain, but the color can change depending on how long you leave it on and several other factors.
It is thought to bring luck, happiness, and beauty, and its smell is also said to be an aphrodisiac. In most Indian communities, Mehndi was usually done by someone happily married and close to the bride's family and friends.
Since more than 5,000 years ago, people in Pakistan, India, Africa, and the Middle East have been practicing the art of henna. Some records say it is more than 9000 years old. In every part of the country, the bride's hands are decorated with the beautiful red of mehndi as part of the mehndi ceremony.
Types for Mehndi:
1. Moroccan mehndi design:
Moroccan mehndi designs are unique and beautiful in their way. The best part is that both men and women can wear the designs.
The geometric shapes, lines, and curves, as well as the tribal designs, make the Moroccan Mehndi designs beautiful and hard to resist. It is a lovely, rich copper color that combines indigo to make brown to black tones.
---
2. Indian Mehndi Design:
Indian-style mehndi designs are already well-known and beautiful. The intricate style of Indian mehndi designs has something for people of all ages. Indian wedding dresses have some amazing patterns from front to back.
Mehndi methods include sketches of birds and animals, the sun, a Kalash, the bride and groom, and the bride and groom's hands. It's because the mehndi is a beautiful shade of red. In this type, you can find several easy mehndi designs for hand.
---
3. Pakistani Mehndi Design:
These Mehndi designs have leaves, flowers, mosques, mandalas, domes, and a lot more, like paisley patterns, that show the values and traditions of the country.
Pakistani mehndi designs are difficult to frame because they have bolder lines that look beautiful when drawn on hands. It is red.
---
4. Arabic Mehndi Design:
Bridal Arabic mehndi designs are popular because they look beautiful and are made up of a good mix of bold lines and empty spaces.
Arabic mehndi comes from the Gulf countries, so its designs and styles differ slightly from those of regular mehndi. Because of its refined and royal appearance, this mehndi pattern ranks among the best. It is a deep reddish-brown color.
Simple Mehndi Design for Girls:
1. Henna Design for both Palm:
Do you want to have the same and coordinated henna design on both hands? Then, look at here in the picture, for this easy mehndi design for hands that looks simple and beautiful. Forthwith, This henna design is a choice for every bride to look elegant and pleasing with this mandala design.
---
2. Simple Arabic Design:
For women, putting Mehndi on the palm is a culture. Mostly, putting bridal Arabic mehndi designs are ideal inspiration during any wedding, occasion, festival, or event.
These days, simple, elegant, and minimal henna designs are the taste among most women. These picture of the henna design shows minimal Arabic design on the palm.
---
3. Modern floral Backhand Design:
Mehndi tradition is popular among girls, and women. Whether there are simple mehndi designs for girls or heavy. They enjoy putting different henna designs on hand.
Showing backhand design in photoshoots is more trending. The picture shows the girl showing her backhand henna design carrying a modern floral mandala-like design.
---
4. Korean vibe Mehndi Design :
If you are looking for an easy mehndi design for hands, that will accord you some Korean and Chinese vibe design. Then, you can go for having a simple lighted Arabic design on your hands.
These design carries a modern rose or flowery pattern on the center part of the hand and covers with a leafy design to make them more beautiful.
---
5. Netted Henna Design :
The netted mehndi designs for girls are perfect for every kind of occasion or function. This impressive back-hand bold and big netted henna design also suits for bridal henna function.
This prettiest netted design remains trendy always. This netted design covered with a flowery touch of criss-cross points and dots enhanced the look of such a henna design.
---
6. Peacock Feather Design:
This peacock feather made easy mehndi design for hands, and looks adorable and beautiful among other tattoos or flowery designs.
Forthwith, This peacock feather-made design is a popular choice among youngsters and mostly girls. As it looks beautiful of course due to the sheer beauty of the bird's feathers.
---
7. V-Shaped Arabic Mehndi Design :
There is one myth that a bride is incomplete without putting a henna for her wedding. These days, V-Shaped minimal Arabic mehndi designs for girls are even one those attractive and elegant mehndi designs.
This v-shaped henna design on the backhand looks absolutely rich, royal, stylish, and modern with a royal ring, complementing the bride for her bridal look.
---
8. Front Hand Design:
This is the era where girls prefer to have simple, stylish, elegant, and beautiful easy mehndi designs for their hands. The designs look heavy but remain simple and minimal.
This picture shows the henna design that has a leaf on the palm and a floral design under it with a sparkling design made on the remaining part of the palm.
---
9. South Korea Mehndi Design :
This is the easiest mehndi design for girls among all the other henna designs. As it is simple to apply and looks amazing on hand with a floral design including personalized elements on it.
This is the modern type of design that looks simple but sweet and pleasing for a particular occasion or event and functions.
---
10. Floral Semi-circle Design :
This front-hand henna design picture shows the semi-circle jewelry pattern design. This is the most preferable Indian mehndi design for girls that they are accustomed to applying at every function or mehndi ceremony of anyone.
This design is made of floral in a choker jewelry pattern on the palm of the person giving it a semi-circle shape.
Butterfly Mehndi Designs:
11. Butterfly Designed Mehndi:
Forthwith, Colorful butterfly mehndi designs with leafy bel patterns are the ongoing trends. Here, in the picture, the Arabic mehndi pattern along with the butterfly and floral design with it enhanced the design and backhand look of such a henna design.
This gorgeous mehndi design completing from the backhand wrist part to the middle finger accords modern and stylish mehndi look.
---
12. Butterfly Tattoo Design:
The design of applying mehndi with a logo or tattoo of a butterfly is something new and accords mesmerizing look. This picture shows the butterfly wings made with a floral design on one side.
This butterfly mehndi design is best accompanied by a ring design on the middle finger and a floral design on the ring finger.
---
13. Butterfly Tattoo on fingers:
The mehndi design is incomplete without any innovation or new creativity in it. The butterfly-making design is that new creative look.
Look at the picture to get some new creative ideas to apply henna on fingers with making butterflies as a tattoo on the middle and ring finger. Along with sparkling stars above it.
---
14. Arabic Design for Back-hand:
Highlighting the other fingers with the ring finger, along with mehndi designs quite be easy now.
Applying mehndi on the backhand for putting bridal Arabic mehndi design can look more gorgeous with drawing flying butterfly on one hand. In addition with a floral Arabic mehndi design on the other back-hand.
---
15. Butterfly Tattoo Henna:
The butterfly tattoo symbolizes young romance, love, freedom to fly, grace, and joy. Applying these butterfly mehndi designs as seen in the picture can accord a person the temporary feel and joy of a butterfly with her flying wings on the back of the hand.
---
16. Butterfly Design for Festival:
Applying Butterfly mehndi design on the occasion of Rakshabandhan shows the siblings' pure love. This love can be more gorgeous to be presented on the back of the hand with a butterfly design on the wrist.
Looking like a bow or ribbon tying the band along with a thin netted design on the index finger of the back of the hand.
---
17. Front Hand Butterfly Mehndi:
Dark color of the mehndi stain in every girl or women's hand can bring more joy among them on any occasion.
The temporary dark stain of mehndi designs for girls can even bring the same Grace to a function with such a modern and stylish butterfly tattoo design.
---
18. Multiple Butterfly Design:
The girls can even try to have this simple, elegant, and gorgeous Butterfly mehndi design tattooed on the back of their hand. This mehndi design in the picture shows the flying butterfly drawn on the distant fingers and overall at the back of the hand.
---
19. Butterfly Logo Design:
This picture shows the butterfly mehndi design applied as the logo. As per this picture, half part of the butterfly wing's design is made on the right thumb and the other same part on another side of the hand, showing a simple but effective logo design look.
---
20. Butterfly lace Henna Design: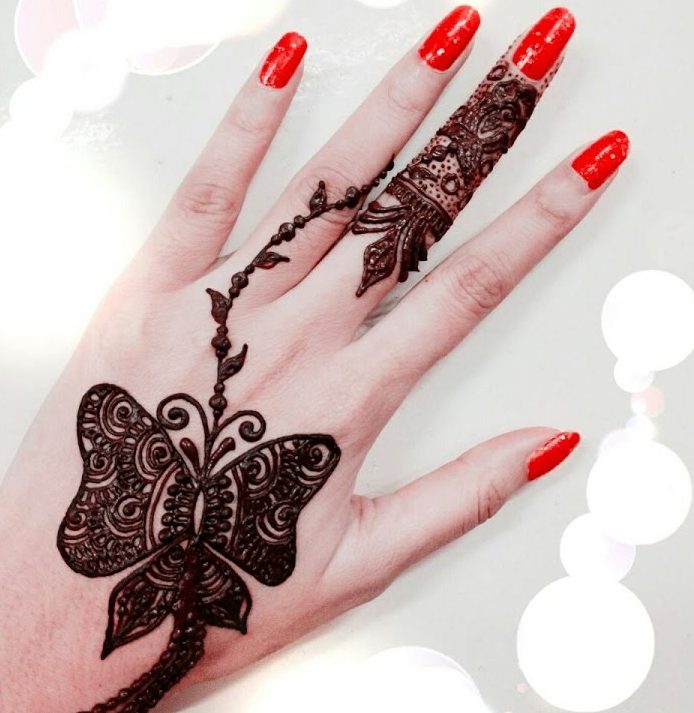 This is a simple and attractivebutterfly mehndi design for girls. A pretty butterfly is made on the Centre of attraction on the back-hand. The leafy lace design is made through it covering the ring finger and unique mehndi art on the middle finger.
Tattoo Mehndi Design:
21. Single Flower Tattoo:
If a girl is willing to have tattoo simple mehndi designs for a short period of time or on a temporary basis can apply henna for getting such a look.
A basic tattoo design can be made with this single flower tattoo look on the back, below the shoulder to experience a tattoo look.
---
22. Big Butterfly Tattoo:
Big butterfly tattoo is a trendy, and girly tattoo symbol. This is the most applied and preferable tattoo look.
Here even, showing the girl putting the butterfly tattoo on the below back of her shoulder. It is indicating like the butterfly is flying over and around the flower happily.
---
23. Leaf Tattoo:
If a girl doesn't want to apply mehndi on her hand completely. Then, the finger tattoo mehndi is also a modern and trendy way to accomplish the tradition.
This leaf tattoo's simple mehndi design looks pretty. Moreover, it can be presented as a modern accessory logo to attend any event or friend's wedding function.
---
24. Musical Tattoo Design:
A tattoo perhaps be an interest and passion of someone. However, barely someone have the courage to get a permanent tattoo to be inked.
Till you can enjoy the musical tattoo simple mehndi designs by applying it on the backhand side of the little finger.
---
25. Dragon Tattoo Design:
This is not necessary to experience the dragon tattoo design look only with the ink. The henna can be applied for temporary dark color stains.
Furthermore, it looks gorgeous, modern, and stylish at the same time with floral and leafy pattern designs above and around it.
---
26. Leafy-lace tattoo Design:
As a guest in a function, it looks better to have a minimal and easy mehndi design for hands. Applying floral-leafy lace design mehndi on the back-hand along with some traditional wear can enhance the look for a party.
---
27. Henna tattoo for Twinning purpose:
To share a love bond between two girls, they can have the same tattoo as the purpose to twin. Applying the tattoo simple mehndi design on the thigh can be a new way to show the bond between the two for the same functional look.
---
28. Infinity Mehndi Design on thumb:
Those girls who are willing to have a logo tattoo design on a thumb finger part of the hand.
They can apply this infinity tattoo with simple mehndi designs on the back-hand thumb. This logo is indicating the intricate, simple but impressively impacting and pleasing design.
---
29. Star tattoo Design on the Neck:
Those girls who are willing to slay with minimal mehndi design for the backless dress. They can apply the star tattoo simple mehndi design on the back of the neck to look more gorgeous and stunning.
---
30. Mehndi Design for anklets:
Some girls are fond of anklets and mehndi at the same time. Through the picture, you can get an idea to apply the floral design on the anklet part of the leg. The feet would look absolutely beautiful with the floral touch look of mehndi on the anklet.
Easy Rose Mehndi Design:
31. Elegant Rose on Palm:
Applying a simple and minimal easy rose mehndi design on the palm can be even considered a bit of good luck.
It looks elegant to draw a rose on the center of attraction of the palm. Covering it with a small 3sided- leafy design enhances its beauty.
---
32. Floral lace Design on the arms:
To add joy and happiness to a function, or occasion. A simple and elegant bridal Arabic mehndi design with floral- lace design would be enough for enhancing the fun and enjoyment of the mehndi functions.
---
33. Arabic rose Mehndi Designs:
Nowadays, Easy rose mehndi designs are trendy, and modern and looks elegant to enhance the look of the bridal mehndi ceremony.
To attend any friend's wedding, this Arabic rose mehndi design accords a stunning look and is pretty to the present.
---
34. Rose-jewelry Mehndi:
This picture gives an idea of a mehndi design for girls that looks like Rose-Jewellery. This Rose-Jewellery back-hand mehndi design starts from the wrist part covering the fingers completely with the henna.
It gives a floral choker look that made the backhand look amazing and beautiful.
---
35. Bridal-floral Mehndi Design:
Nothing can be more beautiful than this bridal minimal floral mehndi design. This rose pattern floral design is a new bridal Arabic mehndi design that gives a touch of a minimal and elegant look.
Single floral lace starts from the wrist and end at the little finger of the front hand.
---
36. Rose Tattoo or Logo Design:
An easy rose mehndi design can be applied as like tattoo or logo on arms. This rose-design mehndi can make the festival or special occasion event more flowery and gorgeous.
Look at the detailed drawn rose flower on the hand, which absolutely gives an eternal touch to the design.
---
37. Back-hand rose Lace Design:
This is an awesome rose and leafy mehndi design for the backhand. As per the idea stated in the picture, the index finger and wrist are covered with a rose and leaves design. It makes a long bracelet-like structure on your wrist.
---
38. Rose-drawn Mehndi Design:
The rose-drawn mehndi design on the front hand bestows cultural significance. This easy rose mehndi design on hands accords a clear and vivid description and detail about the glory of the rose.
---
39. Floral Bangle Style Mehndi:
The rose and other floral designs look amazing and elegant on the hands of a girl. For a bridal function, this hand band or bangle style wrist mehndi is bestowing the look of a floral bracelet on the wrist.
Moreover, the easy rose mehndi design on the palm with a semicircle pattern shows off elegance.
---
40. Single rose lace Mehndi Design:
Rose lace mehndi design looks modern, simple, stylish, and elegant at the same time. Single lace on the front hand starts from the index finger and reaches up to the flower on the center of the palm and ends at your wrist.
---
Bridal Arabic Mehndi Design:

41. The Leafy and Intricate Pattern :
This design is less intricate in hand but looks stunning because of the flowers, vines, dots, and lines designs it has.
It takes less time to design but decorate and make the appearance of your hand extremely beautiful. For every occasion, this design can be designed as it suits all.
---
42. Design full of Geomantic:
Thisbackhand Arabic bridal mehndi design is full of geometric checks. The bold strokes contain in every check and the dots in mid of the checks and the line connecting the dots to the corner of the checks give uniqueness to your design.
The dark strips between the light strips is looking ideal. The horizontal bold strokes on the pink finger are highly appreciable.
---
43. Beautiful full-hand Design :
Isn't this Arabic henna design for girls looking mind-blowing in the back of the hands? The mehndi artist beautifully used his skills of applying Heena. The design is a full-fledged bridal design.
The design is covered with floral motifs, strokes, leafy trails, and other designs. The pink fingers are covered is the interesting part of this design.
---
44. Beautiful Combines with Simplicity :
The charismatic simplicity of this mehndi design is lovable. Like all Arabic mehndi designs, it is also decorated with flower motifs with dainty dots increasing the beauty of the design.
The circular shape filled with four bold strokes looks stunning. The design is pretty unusual and the best one.
---
45. A blend of Flowers and Strokes :
If you looking for a spellbinding mehndi design with phenomenal art for your bride then this bridal Arabic Mehndi design is breathtaking.
Laden with bold and light strokes, checks between the flowers is eyes pleasing. This one is the latest and trending design loved by brides.
---
46. Latest Arabic Mehndi Design:
Want something extraordinary and new? Take a glance over this design having a 3-D appearance floral motif with lots of circular pattern strokes.
The leaf shapes strokes dropping from fingers is so attractive and look like an easy rose mehndi design but requires a little bit of finishing and effort.
---
47. Clustered Beauty :
How it's looking in the hand of the bride-to-be? These easy mehndi designs for hands became the center of attraction because of the beautifully placed birds and cages between the flower motifs in one hand and mosque-shaped design in the second one.
The delicately drawn of these along with geometric checks are something's you may searching for.
---
48. An eyes catching Mehndi Design :
This heart-touching backhand mehndi design for girls attracts everyone's attention. In this minimal pattern floral designs are drawn with leaves and surrounded by heena is beautiful.
Covering half of the hand and the rest is designed with checks, some hearts, and a combination of many.
---
49. Creativity at the Next Level :
In this mehndi design the format is filled up with henna. The design is diagonal fallen, mosque-shaped, and window frames have emerged beautifully.
All such things make it the perfect bridal Arabic mehndi design. But require hard work and finishing to complete this stunning design.
---
50. Traditional yet Appear to be Modern :
This mehndi design for girls is unique and different because of many reasons. The palm is filled with Lotus surrounded by filled henna, fingers are mixed with motifs, strips, and strokes.
The wrist area is however designed beautifully which makes it quite interesting and remarkable.
Tips for Maintaining Mehndi:
1. Cleaning up before using:
Before putting on mehndi, wash your hands well with soap before you sit down. Don't put any lotions or creams on your skin.
2. When to use eucalyptus oil:
With eucalyptus oil, you should break the rule. Use this essential oil on your hands and feet after you've washed your hands.
3. Let the Mehndi dry on its own:
Let the Mehndi that you put on your hands dry on its own. Don't shake hands or use a hair dryer.
4. Spend the time:
Keep the Mehndi on your hands for as long as you can, ideally overnight.
5. Smoke it:
People think that the smoke from burning cloves helps make the Mehndi darker. Put some cloves into an iron pan and heat it.
6. Sugar and lemon:
After completely drying your Mehndi, mix sugar and lemon juice and put it on your hands. Apply it with a cotton swab and a light touch.
7. Vicks saves the day:
After leaving the Mehndi on for a night, it's time to take it off. Rub your hands together gently until all of the Mehndi is gone.
8. Don't go near water:
Before putting water on your Mehndi, wait at least 24 hours. The top layer of Mehndi will be washed off by water so the color won't get very deep into your skin.
9. No treatments for beauty:
Waxing, pedicures, and manicures should all be done before the Mehndi. If you can't do it immediately, wait at least two or three days.
FAQs:
1. How can I darken my mehndi hands?
To darken your mehndi, you can follow simple tips like apply eucalyptus oil, use the mixture of lemon and sugar, make contact of your mehndi with cloves smoke, keep your mehndi away from water, use pickle oil or Vicks, etc.
2. How many hours should mehndi be on hand?
For getting darker color, you must keep your mehndi until it dries out completely. If possible keep it for at least 8 hours or even overnight also. It helps in absorbing color and your mehndi gets darker color.
3. How can I instantly remove mehndi from my hands?
For removing mehndi you need to take proper skincare steps that will not create any side effects. You can remove your mehndi by applying a hand cleanser, and a sanitizer, using a face scrub, applying tomato juice, baking soda, etc.
Conclusion:
Mehndi is a form of art that is loved all over the world. In each culture, each type of mehndi design for girls means something different.
Patterns, thick or thin borders, where they are put, and so on are all things that make it unique to that culture. The main reason to use mehndi is to take advantage of its natural healing herbs, which cool the body.
Also Read: 60 Wedding Dresses For Girls: Bride, Guest, and Teenage Girls
Also Read: 40 Modern Hairstyles For Lehenga That Will Make You Look Pretty