15 Gorgeous Long Hairstyles For Round Faces That Will Transform Your Look
Nowadays zero figure is trending everywhere and women are trying to attain it by dieting and slimming themselves.
They are trying to achieve a skim and trim face with highlighted chick bones so that all the new and modern long hairstyles can suit their face. After all, longer hair is flirty and feminine and can also be styled differently.
But, what about women with chubby or round faces and long hair? Isn't there any hairstyle that best accessories their look?
Well! Of course, there are many impressive long hairstyles for women with round faces! In fact, round faces and long hair can give you a complementary look.
They will make you the center of attraction everywhere you go! Don't believe us? Well! Attempt any of these 15 long hairstyles for round faces on your hair and understand the difference. So, here we go!
1. Look Super Sexy With Side Swept Beach Waves Hairstyle:
If you want to go with sleek and waves long hair you can add Body Wave Wig as if you are just going to party on a beach? Then, Choose this hairstyle among other chubby face long haircuts and you will look more glamorous than before.
This style of your hair will increase your sexy quotient and make you look super attractive in front of everyone.
The hairstyle will narrow down your face by balancing your round face's width, as you make your lengthy hair wavy and sweep it to one side of your shoulder. Besides, this loose, wavy, and beachy long hair of you will draw everyone's eyes down to it, thus, making your face seem longer than usual.
---
2. Flatter Your Round Face With Half Up Half Down Hairstyle:
These flattering long hairstyles for women with round faces will draw your eyes up directly towards your head's crown. It's somewhat similar to the updo hairstyle and because of your hair's down section, your face will look longer, not round.
This hairstyle is ideal for those who possess naturally smooth and fine hair that falls flat too often. Secure your hair's upper part using bobby pins/hair ties. It's not good to rely upon volumizing mousse and spray alone.
---
3. Show Off Your Edgy Style With This Side Undercut Hairstyle:
Among all the long hairstyles for round faces, a side undercut is an excellent one for making your face appear slimmer than anything.
Buzz or shave your head's both sides and style up your versatile top section into a ponytail.
Believe us! Nothing will stop you from looking attractive! Office or party, wherever you go, every eye will be on you!
---
4. Go For Long Waves:
Hair experts always recommend that women with round faces go for longer hairstyles as it will draw everyone's eyes down towards their hair, thus, balancing their round face's broader look.
And, one such fabulous hairstyle among such chubby face-long haircuts is the Long Waves hairstyle.
Just build volume at your crown for this hairdo and create in the central or side portion of your head, big loose, waves that flow. When the waves fall on your forehead, they will make your forehead appear smaller as well as narrower. Thus, your face's proportion is balanced.
---
5. Be Iconic With The Afro-textured Bantu Knots:
Do you possess a round face and thus search for various long hairstyles for round faces? Then, how about trying Bantu Knots? With these knots, your eyes will be drawn outwards in more than one direction.
So, your face adds up a new height, highlighting your cool 90's appeal. The hairstyle will suit you more in a formal event and complement your polished sleek look.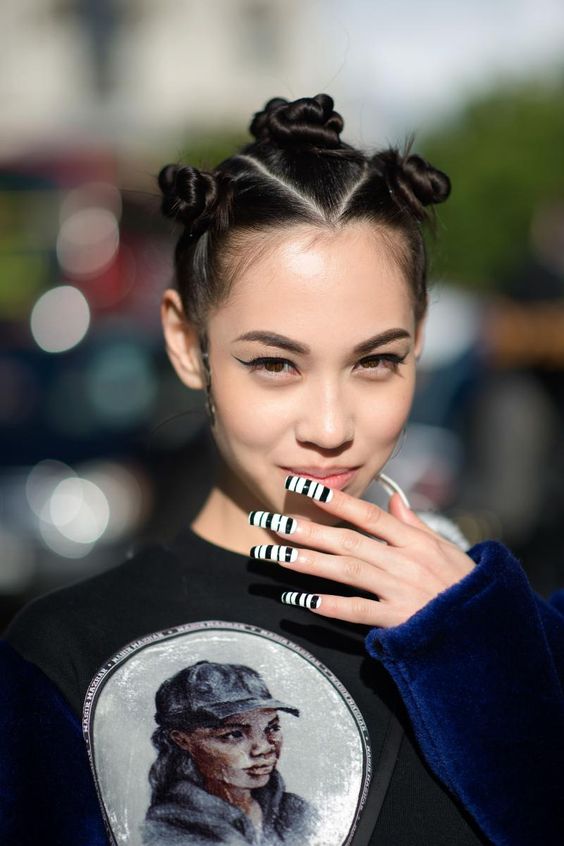 Though originally used by the Africans, this hairstyle is now in vogue, whichever country you go to. Everyone, especially those having round faces, is including this hairdo in their hair styling list for their occasions or parties as this hairstyle makes their face look slimmer.
---
6. Stay Super Sleek With Your Super Sleek Longer Bangs Hair:
Want a polished shag look? Then, choose the layered long hairstyles for round fat faces and change your styling definition. A few layering patterns of this hairdo and its fringe will just overpower your boring impression.
Also, wet your hair and apply a slight leave-in conditioner, so that your hair becomes more pliable than before. Use a nourishing detangler and blow dry your hair in a crisscross pattern.
It will break away the cowlicks, making your fringe fall across your forehead evenly.
---
7. Enjoy lovely lengthy hair with a glossy money piece:
Wanna more long hairstyles for round faces? Choose this hairstyle with a brilliant money piece.
This hairstyle will bring summer into your lengthy hair such that you don't have to bleach your hair too often. So, get ready for this playful and transformational look.
---
8. Show off your long Bronded Hair With A
Central Part:
Comb your hair and part them sideways such that there exists a central part in the middle part of your head. Making your hairstyle in this manner will make you look more modern and your face, slim.
---
9. Be Curly With Loose Curls Hairstyle Having Side Bangs:
Want a soft, romantic, and modern flattering hairstyle that can be added to the list of various long hairstyles for round faces?
Then, go for this Curly With Loose Curls Hairstyle. You will also have side bangs with it. Also, with it, you will have just the perfect combination of product, pinning, curl, and volume that will transform it into a timeless classic.
Again, you will love the accentuation of color on your hair. The hairstyle will somewhat elongate your face's shape giving it a more oval look.
---
10. Look Stunning In Lengthy Straight Long Layering Hair:
Don't have enough time to maintain your hair regularly? Then, follow this lower-maintenance hairdo.
Though this cut comprises several versions, it looks incredible when done with a good hair care routine at home using a heat protectant as well as an oil.
It keeps the ends of your hair moisturized and maintains its integrity.
---
11. Express Your Brighter Side By Choosing Light Copper Lengthy Hair Hairdo With A Median:
This kind of hairstyle among other long hairstyles for round faces imparts you a stunning look. It's appropriate for women having chubby faces.
This is because, in this hairstyle, your face frame somewhat conceals a portion of your cheeks and jaws and your face looks narrower than before. The color of this hair is named strawberry blonde.
---
12. Trick Your Round-Faced Look With Dreadlocks Updo:
Want to know about a tricky lengthy hairstyle among other long hairstyles for round faces? Well! Then let's discuss this hairstyle.
Do you know, that dreadlocks updos are very tricky as their voluminous look helps in balancing your round face's wide cheekbones?
So, steer clear of all other sleek styles for embracing a voluminous look of the Dreadlocks Updo.
This hairstyle carries a cool vibe from the 1990s, providing various women with a unique way of styling their natural extensions. You can wear this hairstyle both while going to a formal place or just casually at your home.
---
13. Try The Layering Long Curtain Bands Along With Dark Roots:
This is a very easy-to-grow kind of hairstyle and is an incredible way to tiptoe them into bangs. Cut at angles, the curtain bangs are blown back away from your face.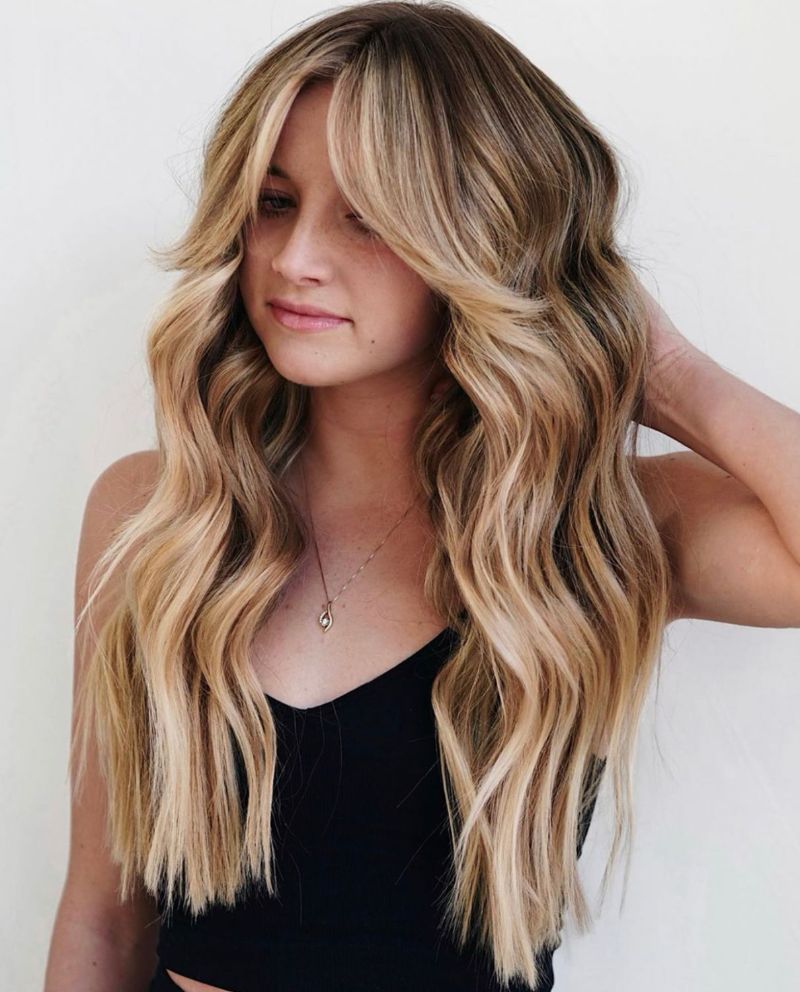 This hairstyle blends with your face frame's layering. The dark roots of this hairdo are done by dyeing highlights away from a root stain over traditional highlights to create a seamless outgrowth.
---
14. Kill Everyone With Your Long Layers hairstyle:
Among various long hairstyles for round faces, long layers always stand out. Reason? The multiple layering of the hairstyle! Love to be a long-haired gal?
Now, enjoy it with these layered long hairstyles for round fat faces that come in several varieties and a multitude of styles.
---
15. Wear It Naturally With Brightening Layers Hairstyle:
This long layered haircut is such that you will love its root's depth and the fading and lightening of colors around your face in a balanced manner.
The hairstyle will also brighten up your complexion. Due to its long layers, you can wear it naturally. Don't put on too much heavy makeup.
---
Wrapping Up:
So, which of the above long hairstyles for round faces have attracted your heart?
Whichever they may be, it's the carrying out of the hairstyles and fashion that actually matters. Carry any hairdo with style on any occasion and millions of eyes will be there in you.
FAQS-
Q. What Hair Length is Best for Round Faces?
Long hair is always best for people with round faces. This is because there are different stylings with long hairs that you can do to make your face look slimmer and less rounded.
However, with shorter or middle-length hair, you cannot experiment different styles that can hide the rounded look of your face.
Also Read: 19 Most Chic And Eye-catching Hairstyles For Wedding Guest
Also Read: 7 Safe Ways To Curl Wet Hair Overnight Without Damage