Top 20 Light Pink Eyeshadow Looks For All Seasons
Although there are numerous colors in our daily lives, pink is the most popular color for makeup looks since it makes you appear younger and prettier and boosts your beauty.
We can't get enough of pink. Fuchsia, bubblegum, rose, and hot pink is the current fashionable colors that are incredibly easy to wear.
Pink makeup is among the most appealing colors on the spectrum and is the go-to look for dressing up or down. As always, we're here with all the inspiration from our Instagram saves to keep your outfits on-trend.
1. Pink Subtle- Light Pink Eyeshadow looks.
This pink eyeshadow look is straightforward for novices to achieve. It's also the latest and incredibly fashionable way to apply pink eyeshadow.
It's an essential yet elegant look that can be achieved using pink eyeshadow & eyeliner. This color is always a safe bet. It is also straightforward and quite beautiful. Never underestimate the power of this easy recipe for any occasion.
---
2. Smokey Pink Eyeshadow with a Golden tint
This soft pink eyeshadow look will never go out of style, and the smoky effect will add to your attractiveness.
This appearance is appropriate for gatherings or award ceremonies. The Smokey pink eyeshadow look will spread like wildfire. Nobody can dislike this appearance.
---
3. Monochrome Matte
"I adore a monochromatic pink moment where the lip & cheek are the same hues." "Jeanine Lobell, a beauty artist, adds, "I used soft pink eyeshadow look on the lid and feathered it into the crease for this look.
I placed a cream blush on the apples & brushed it into the cheekbones, as well as a touch under the brow bone and along the bridge of the nose.
Then, as a highlighter, I applied a silver metallic eyeshadow to the inner corners of the eyes and the top of the cheekbones.
I completed the look using the same cream blush & gloss on the lips." She also said that anyone could try this pink eyeshadow on tan skin.
---
4. Pink Rhine Stone Look
Are you tired of regular eyeshadows? Try rhinestones for sparkling, energetic eyes. Even inexperienced people can pull off this style.
Regular eyeshadows are required, but rhinestones will create an epic effect. Apply the combination of pink and blue eyeshadow to complete the look.
---
5. Heavy Pink with Blush
Make a big statement with out-of-the-box blush. Use a pigmented powdered formula & focus on the apples of your cheekbones, then mix it all around your eyes with a tiny brush for a stunning pop.
According to makeup artist Moon Ruiz, a quality brush is essential for flawless application. "A stippling brush has two unique length strands that work together to apply the substance to the skin and push it into the skin," explains Ruiz. "A domed brush packs it in."
"These brushes have a more 'retouched' feel to them, which looks to be fashionable right now, and we love the results." A matt red lip completes the look.
---
6. Pink Barbie Look
Pink was created for Barbie-inspired outfits, and @hartyyy has always brought this one from the bag.
If this is your style, don't forget to accessorize with delicate pink lips and many gems. It would be best if you tried this pink eyeshadow on tan skin.
---
7. Try With a red lipstick
The color combination "pink and red" is often underappreciated in fashion and beauty. Where you might expect these colors to conflict, they look fantastic together.
Consider this beautiful light pink eyeshadow looks with black cat eye as well as a solid red lip.
---
8. Monochrome Rosy
Jane Hughes is a makeup artist noted for her pink-on-pink highlights & glossy looks (she's practically the queen of glazed skin). And she nailed the rosy monochromatic look.
A palette (like Urban Decay's Cherry Pallet, $60) is ideal for matching your eyelids to your lash line.
Mirror them softly with a muted, virtually naked (but still pink!) lip, such as Bobbi Brown's Luxury Matte Lipstick in Half Naked ($38). It is among the best light pink eyeshadow looks ideas.
---
9. The Pink Arc
Do you want a pink baby doll eyeshadow look? Hey! This is it. Don't forget to add a black arc and uneven lines to the bottom lashes.
This will make you appear ten years younger. Teenage females must make an effort. It will elevate your fashion sense to new heights. You can try this pink eyeshadow on tan skin as well.
---
10. Glam Smokey Pink Eyeshadow
Try sparkly and smokey pink eyeshadow ideas if you want to look effortlessly gorgeous on a date night. This color is always a safe bet.
If you want to go further, add a silver glitter line in the center. The glitter creates an iridescent effect, while the rhinestones amp up glam.
---
11. Green and Smokey Pink Eyeshadow
Will a light pink eyeshadow looks combination with creamy green pastels work?
Yes, it is the look you should opt for. This will be a stylish source of inspiration for the eyes. This pink eyeshadow design creates a cheerful and energetic appearance for the eyes.
Just have a good time with this lovely green and pink smoky makeup look. Finish with a pink lower lashes line to complete the effect.
---
12. Pink Barbie Eyeshadow Look
This pink eyeshadow makeup with pink eyeliner is among the most incredible pink eyeshadow looks.
Never forget to wear this look to a party. Be a Barbie girl and create your own Barbie world. It's going to be excellent.
---
13. A Little Glow- Light Pink Eyeshadow Looks
Although not all pink makeup styles are ultra-feminine, you may use this as an opportunity to indulge your inner girly girl.
Lean into baby pink and mix a sparkling liquid eyeshadow with a complementing bubblegum gloss for the ultimate fresh and young throwback look.
---
14. Bright Neon
Proof that neon lids can be worn comfortably. Combine them with a hydrating pink lip and a charcoal smokey pink eyeshadow around the bottom lash line.
(It provides an otherwise exquisite and delicate look and a more daring and outrageous edge.)
---
15. Golden Yellowish Pink Wings
The golden wings with pink wrinkles at the top will give you a flawless appearance. It is also an excellent choice for individuals seeking something too theatrical.
This pink gives your eyes fire, making them gleam like rays of sunshine. This pink makeup look goes well with a pink or gold outfit.
---
16. Pink with Two Tones
This soft pink eyeshadow look with contrasting colors belonging to the same family will make you seem stunning.
The enormous eyes are the prettiest. This shadow will make your pupils appear bigger. You can try this pink eyeshadow on tan skin too.
This pink eyeshadow style will make your eyes pop. Don't forget to combine this look with pink and blue eyeshadow too.
---
17. Lids with a Shine
A lid gloss might be your greatest friend, especially if you're a female on the move.
You may combine multiple hues of lid gloss (like Glossier's Lid Star, which costs around $18) on your crease and lid. Then, smear or apply a matching pink lip gloss.
---
18. Sunshine Pink
Are you tired of the same old fashion? This pink makeup look with a yellow color in the crease will have you feeling like a rose climber.
This yellow color defines the soft pink eyeshadow look and effect. It will accentuate your beauty. This bright pink is ideal for daytime occasions.
The cheerful pink hue will make it seem comfortable even if it's freezing outside.
---
19. Violet & Pink Contrast
This is one soft pink eyeshadow look that looks incredibly regal with this color palette combination. Pink combined with a tropically bright color like violet and rhinestones will create an attractive look.
These rhinestones can give your stylish eyeshadow a rich appeal. This makeup style will give your eyes a royal appearance. This pink eyeshadow on tan skin can be an alternative to pink and blue eyeshadow.
---
20. Pink & yellow for starters
It is an approachable and light pink eyeshadow looks for beginners. It may appear minor, yet it will never lose its visual effect.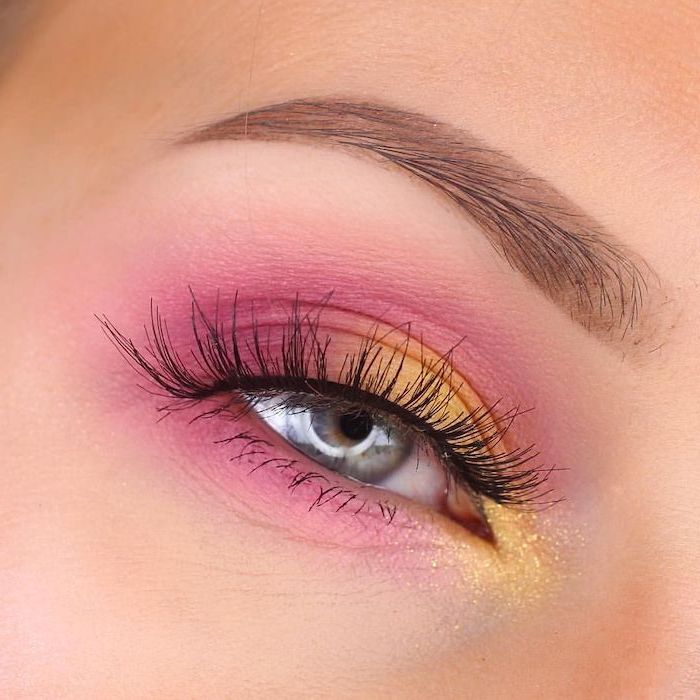 This idea will be appropriate for daytime events. This pink eyeshadow look is suitable for any costume.
That sultry liner will elevate your appearance to new heights. You can try a combination of pink and blue eyeshadow too.
Conclusion
You don't have to integrate all color—swipe on light peachy colors or go all out with bright fuchsias. Select your journey!
The essential thing to remember is that a splash of pink instantly makes everyone seem more vibrant, fresher, and a little bit happier.
We asked the professionals for advice on each skin tone's finest pink makeup trends. We have listed the top 20 light pink eyeshadow looks above.
Also Read: 16 Best Way To Wear Pink Eyeliner Like A Pro
Also Read: Top 25 Purple Eyeshadow Looks That will Give you Unique Look