14 Latest Hairstyles For Sharara Wedding Dresses
Your hairstyle is an essential component and an adornment. Depending on your dress, you must select the appropriate hairstyle to complement your overall look.
There are numerous styles for bridal attire, such as Sharara. Sharara allows you to wear nearly every single hairstyle you can imagine, from buns to braids. It is, however, more straightforward than it sounds.
We have listed the Top 14 hairstyle for sharara dress below. The more possibilities you have, the more challenging it is to pick one.
However, the good news is that we're here to assist you in choosing your hairstyle on Sharara.
1. Bun with Side Partition
A bun with a side-partition hairstyle is as traditional as it gets. This hairstyle is best paired with Kurti on Sharara and a blouse with a collar.
The side part brings a sophisticated touch to your face, which is emphasized further by a tidy bun at the back.
For a touch of grace, pair this hairstyle with Mattha Patti, which must be single-layered. This hairstyle is perfect for a hairstyle with sharara suit.
---
2. Braided French Braid
French braids can look both traditional and modern. This hairstyle goes well with a variety of blouses and Kurtis.
Instead of traditional silver or gold jewelry, try flower adornments with a sharara hairstyle. Nothing beats the elegance personified by this accessory to add to the cultural orientation of the look.
The braided French Braid is among the best party hairstyle with sharara dress.
---
3. Open Backcombed Hair
We have another hairstyle for the sharara dress. This hairstyle was popular in the 1990s, and it has made a return, with the Kardashians nearly claiming copyright to it.
This hairstyle is perfect for wearing with your Sharara. Although it is preferable if you do not wear any hair accessories and instead wear heavy tops as earrings because your ears will be prominent.
Allow your makeup to work magic, as this hairstyle will highlight your sculpted look.
---
4. Hairstyle Rose Braid
Looking for hairstyles on garara? If you want to integrate a floral theme into your wedding hairstyles but don't want to stick to the traditional method of tucking Mogra flowers or real roses into your hair, we have an exciting option!
Presenting rose braids, which experienced makeup artists primarily do. The shape of a rose attained by carefully folding the hair strands to form petals is the major attraction of such wedding hairstyles.
Don't forget to try this Kiara Advani hairstyle.
---
5. Hairstyle with Cornrow Braids
Cornrow braids are famous internationally but challenging to accomplish on smooth Indian hair. But don't worry, cornrow braid hairstyles are still possible. Cornrow Braids are among the best hairstyle with sharara suits.
French-braiding numerous sections of hair, beginning with the hair around the forehead and afterward gathering all the completed braids into one semi-messy bun, is simple to achieve and looks stunning!
Hair accessories fixed on top of or around the bun enhance such hairstyles on garara or hairstyle with a sharara suit.
---
6. Crown Trails (Kiara Advani hairstyle)
This party hairstyle with sharara dress has always been in trend no matter what since its inception.
Making twirls from the sides of your forehead and attaching them towards the back of the head not just adds the elegance of a messy and tidy hair look.
Still, it also leaves unlocked entryways for whatever else users would like to add to that hairstyle. You'll braid, bun, and relocate your hair to one side, among other things.
A Mattha Patti would be stunning. Crown trail's Kiara Advani hairstyle is one of the top party hairstyle with sharara dress.
---
7. Bun with Braids- Best hairstyle with Sharara suit
Don't we all adore braids? All you have to do to give that Braid a neat and classy look is to twist it into a bun.
It's lovely and makes hair easily manageable. Bun hairstyles complement collared or intensely embellished blouses and draw attention to your beauty.
The addition of a Passa can enhance this hairstyle on Sharara. It gives the outfit a royal appearance.
---
8. Hairstyle with a Bubble Braid
You must try this hairstyle for sharara dress. Replace the standard Braid with a fluffy bubble braid to add volume to your natural thin hair.
The Braid, as the name implies, is made up of hair sections that are puffed up to form a bubble and then secured bottom and top to endorse and firm the shape.
It would help if you tried this hairstyle with sharara suit.
---
9. Side Part with Loose Hair- Hairstyles on garara
Although wearing hairstyles that look like accouterments on Sharara is stunning, it is equally stunning to let it and keep it simple.
It all comes down to how well you handle appearing on a general level.
Parting your hair on the side and wearing it with a Passa and heavy neckpieces gives your outfit a wholesome appearance. You can wear this one of the best hairstyles on garara.
---
10. Both Side Diagonal Braids
This is among the best hairstyle choices if you want a neat look on your Sharara. It's simple to do and gives your outfit a very chic appearance.
This hairstyle on Sharara looks excellent when paired with Maang Tikka, but it also looks great when left unadorned.
This style looks best on straight hair, but if done correctly, it can also look great on wavy hair. It is also among the Top 14 hairstyle for sharara dresses.
---
11. Hairstyle with a Waterfall Braid
As the name implies, this hairstyle creates the illusion of a waterfall by braiding a portion of the hair around the crown area and letting the rest fall freely on the rear.
The best approach to pulling off this hairstyle is to do a simple braid, leaving one parting of the three-section braid hair behind to create the waterfall effect and scooping up a new parting from the restrained section of the hair to proceed with braiding.
---
12. Hairstyles for Soft Curls
Oh, WOW, her hair is stunning! Try this stunning Kiara Advani hairstyle which is a well-suited hairstyle for sharara dress.
Before we could overcome those perfect soft curls, we were drawn to this breathtaking Braid and quirky hair accessory, which made us fall in love with the look all over again!
---
13. Jhoomar-inspired hairstyle
We adore jhoomars; they are traditional, giant, beautiful, and everything else!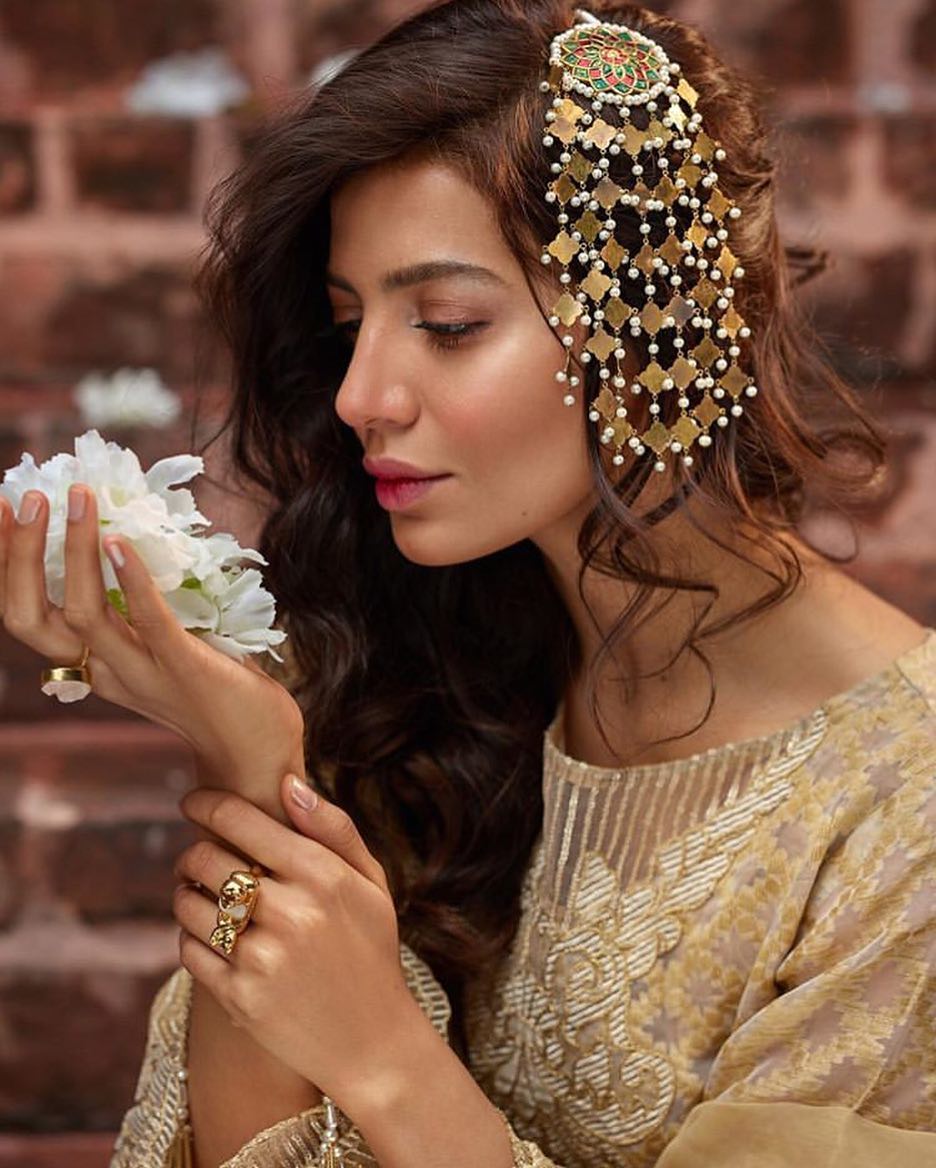 This bride wore her hair on one side and a jhoomar on the other, and she looked stunning for the engagement party.
---
14. Gajra's Hairstyle
Garjra hairstyle is among the best party hairstyle with sharara dress. No matter how often gajra has been worn as a braided bridal hairstyle; there's always a new method for wearing this lovely hair accessory.
Bridal hairstyles with gajras are always in style, and global influencer Diipa Khosla demonstrates how to design this for any ceremony or party.
Conclusion
These are the best hairstyles for sharara dresses you can wear on your wedding day.
Whether you prefer a bun hairstyle, a ponytail, or a fashionable braided hairdo, you can choose the best hairstyle for your personality.
We have listed the best hairstyle for the sharara dress, including the Kiara Advani hairstyle, hairstyle with sharara suit, party hairstyle with sharara dress, hairstyles on garara, and much more.
Also Read: 15 Trending Birthday Hairstyles In 2022 That Will Wow Everyone
Also Read: 50+ Best Mehndi Designs for Girls That are Easy to Recreate
Also Read: 25 Best Hairstyles For One Shoulder Dresses To Make You Look Fabulous