These Gigi Hadid's No Makeup Looks Are Gorgeous That You Can Copy
Facing the spotlight with makeup-free looks needs some boldness and also requires the spirit of experimentation.
Gigi Hadid continuing the 2021 trail of no makeup photos has updated her natural sunshine make-free photos in a private jet in January 2022.
Gigi Hadid no makeup face literally glows and at the same time never misses to give the sun-kissed vibe to the viewers. But her natural without make-up look is not new because time and again she is impressed with her simplistic selfies.
Who is Gigi Hadid?
It's needless to introduce Gigi Hadid to the viewers, as the American influencer cum television personality and American model has stayed in limelight for the last few years.
The 2016 British Fashion Council has ranked Gigi as the International Model of the Year. She also created and runs the clothing line Guest In Residence.
Provided such an amazing celebrity influential background and a constant chase of the paparazzi, Gigi Hadid with no makeup poses required valor.
---
What is Gigi Hadid No Makeup Photos All About?
At the beginning of the year, that was in January 2022, Gigi Hadid embraced the New year by flaunting her natural glow. While taking over the Instagram handle, Gigi Hadid's no makeup looks were revealed in her private jet.
The Britney Spears Esque headset complemented her without makeup snaps. What's more, talked about is that those makeup-free selfies were taken during golden hours when no filter tricks would work.
The trail of pictures shares some wholesome candid moments where the netizens also got a view of the brick pizza oven alongside. We also loved her adorable daughter Khai's sneak peek playing with dry fallen leaves, her pizza-making evening moments, and dry woodland walks.
She captioned her Christmas post by wishing everyone the Happiest New Year. Soon, Gigi Hadid without makeup posts received more than four million likes and stayed the talk of the town.
---
5 Times Gigi Hadid No Makeup Looks Dominated The Fashion World
For Gigi, her bold without makeup looks are not a new thing. Time and again she slayed with the minimalist get-over. Here are five top ig moments –
1. When She Shared the Half-Faced Sun Spots Selfie.
How can we forget Gigi Hadid with no makeup moment on Instagram, where she shared the sunspot selfie? It's adorable because as she wrote "my baby Zayn says he likes my sun spots".
No one can expect a cuter moment than this one. She also assured her mother through this picture that she is taking good care of her face. Here's what she wrote addressing her mother- "Momma I wear sunblock I promise".
---
2. Gigi Hadid Without Makeup Sunkissed Selfie.
Celebs like fulfilling their fan's demands and here's the throwback to the moment when one of her followers asked her to share a without makeup picture.
She instantly shared a sun-kissed version of herself where everyone was stunned by her oceanic blue eyeballs. Undoubtedly, she takes good care of her skin because even without makeup her skin appears flawless.
---
3. The PostNatal Skin Glow.
Women after having a baby do have some unique glow on their faces. And Gigi Hadid no makeup selfie with baby Khai once again proves such claims.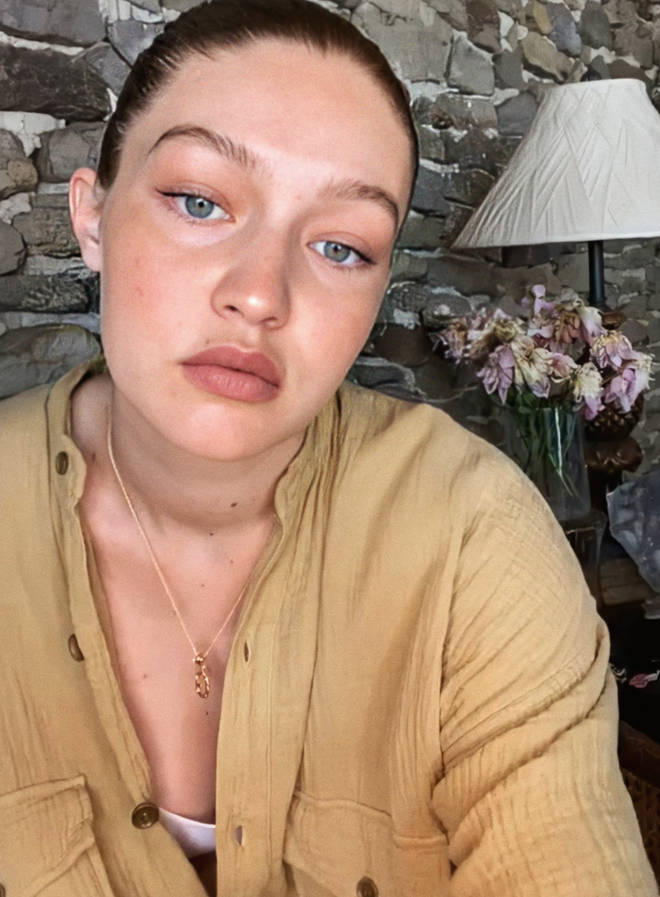 Though Zayn and Gigi have maintained a private space for their child, in one of her posts, she shared how the mother-daughter duo is having a good time.
The no-makeup scene again has stolen the limelight with Gigi and Baby Khai's faces glowing like an October noon.
---
4. Gigi Hadid Close-ups.
Confidence is something one is born with. We bet that not many can share their no-makeup close-ups again and again like Gigi.
Some of the Gigi Hadid without make-up close shots are so mesmerizing that she is hardly looking real to this world. Let's speak about the after-shower post where she is looking surreal in her bathrobe with all her confidence directly peeping through her face.
The second close-up shot is in her black vest and she is flaunting the sun-kissed image. Sun truly admires reflecting through her face.
---
5. Gigi Hadid No Makeup Dominating Pop Magazine.
The no makeup Pop Magazine edition of Gigi was photographed by Stevie Dance and was shot as a tribute to V. The March post has received more than two million likes and turned out one of the best magazine cover photos Gigi has ever shot.
The post's caption also features a special tribute poem written by Stevie. Time and again Gigi has propelled everyone to believe that staying true to your skin is the best trendy idea to follow.
---
What you Need To Implement Gigi Hadid No Makeup, Makeup Look?
Though the American model had been admired by her followers for various mainstream makeup ideas like the 2018 and 2022 Met Gala look. However, fans are more into her no-makeup, makeup look.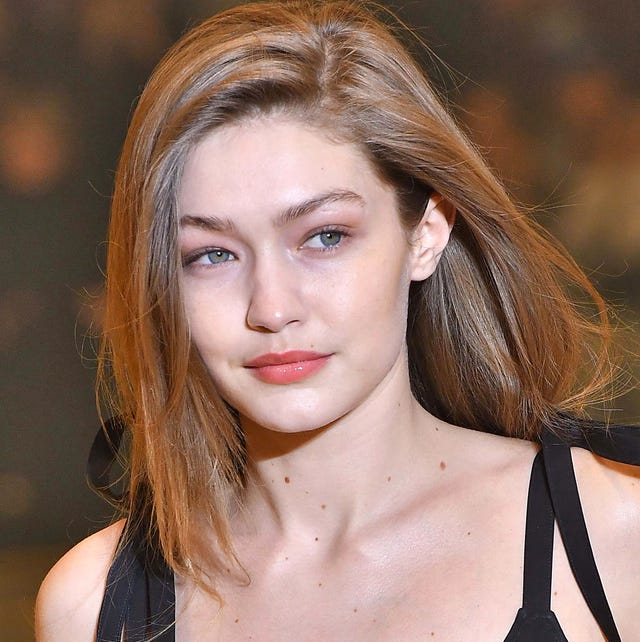 Guess what? Transforming into simplistic natural makeup is not as hard as you think. To follow her classic dewy makeup look would require
A nude lipstick shade ( preferably pitch color)
Blusher and
Wearing mascara in place of fake lashes.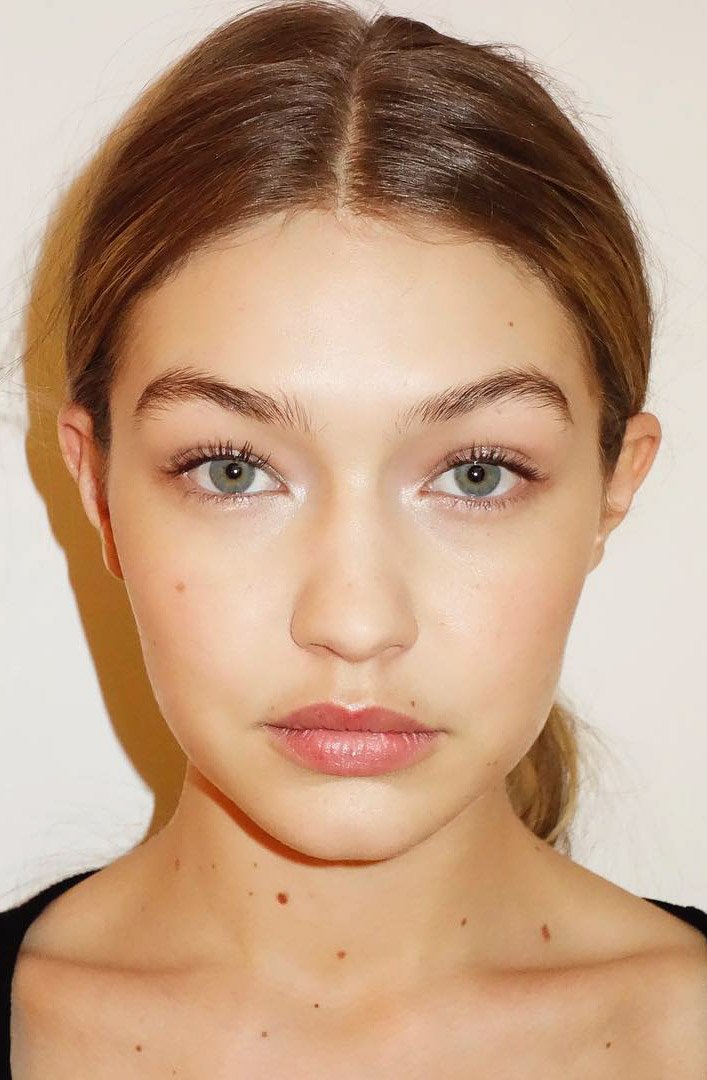 The best part about the dewy makeup idea is that it's easy to implement and would suit every skin tone. Gigi is usually seen carrying this make-up look in casual outings or while traveling on private jets.
---
Few Dewy Makeup Products To Recreate No Make Ideas.
Anyone can recreate Gigi Hadid with no makeup look if they own in their vanity bags the top few products-
1. Gel Moisturizer.
The specialty of using a gel moisturizer is that it adds a hydrating layer to the skin without having an extra glow effect. We have tried the 2 fl oz moisturizing gel cream by Versed dew point and have found good results.
A good gel moisturizer would include ingredients like glycerin, propylene, jojoba seed oil, citric acid, sodium benzoate, and sorbate which are good for moisturizing the skin.
2. Radiant concealer.
While Gigi Hadid No makeup look is about showing the naturalness of your skin but it's also about hiding the blemishes to an extent.
The NYX Radiant Under Eye Concealer is for all skin types as it gives a luminous effect without giving any oily impression.
3. No Makeup Bronzer.
The no makeup bronzer of Perricone MD is quite useful in transforming into a sun-kissed nude face look. The bronzer contains a liquid bronze formula that adds shine to your skin and improves the face's dullness.
Based on your skin tone you can also blend it with a moisturizer to have a deeper shade. The Perricone MD contains key ingredients like Vitamin D, E, and Ferulic acid reduces discoloration and fine lines.
4. Nude lipstick.
No get over it, even the no makeup looks are perfect without pairing it with a nude lip shade. If you follow Giga Hadid's no makeup snaps, you will find that she wore nude lip shades to look picture-perfect.
We recommend selecting a nude lipstick shade that is three shades deeper than your usual lip tone. From Maybelline Super Stay 24® edition, you can pick yours as they offer twenty-four different shades.
Gigi, The Trend Setter!
Once again, like everyone else, we are obsessed with Gigi Hadid no makeup look and how she knows to flaunt her naturalness.
The American model has proven that fashion is about maintaining your naturalness and staying true to your external self. Gigi, who is popularly known for being in a relationship with boyfriend Zayn Mallick will also be remembered for her no makeup trendsetting looks.
Also Read: Top 15 Kim Kardashian Without Makeup Looks Just Like You
Also Read: 12 Popular Make-Up Artist Beauty Travel Blogger Dubai