8 Famous Front-cut Hairstyles That Will Make You Look Younger
All seasonal front-cut hairstyles will make you look trendy!
Are you among those who hardly believe in the versatility of front clicks hair cut? Many hair enthusiasts after one time give up on the idea of styling with the front-cut hairstyle.
While rarely would have anyone noticed the perfect pair of your frontal hair bangs and the facial cut. The below-shared ideas of every front-cut hairstyle will save you from any obligation of regular trimming of front hair flicks. At the same time, don't compromise in bringing out different hairstyles from your hair bangs look.
Types of front-cut hairstyles.
There are numerous front haircut types you will find nowadays. Every hair salon next to you would recommend the best front cut based on the density of your hair and your facial features. Besides that, the type of front haircut would also depend on your hair type. Such as-
Brow length bangs for wavy hairstyles.
For short hair types, you can choose the micro bangs touching your upper forehead. Tip: Add some textures and you are set to rule with micro bangs.
Lengthy front cut bangs for face-framing layers, giving you a natural effect.
Make your hair look dense with curly fringes.
Curtain bangs for the sharp facial types.
Tip: Think about what an effect the curtain bangs would create for short bob cuts!
Asymmetrical hair fringes for medium layered hair.
The feathered long bangs for lengthy hair types.
Some of the Trendy fronts flick haircut styles.
#1. Get layered with front bangs
When you have thick and dense hair then styling long hair with layered cuts is not a bad idea. But for achieving the layered front bangs, you should fulfill two conditions.
First, have dense hair, and secondly, ensure enough hair flows throughout your face. Add some blonde textures to transform your hair into some crazy bold appearance. You can have a triangular parting of your hair and then properly sectionalize the frontal hair to get the desired bangs.
Tip: Be extra cautious about the length of your bangs and don't trim them extra short. Visit the Salon Guy channel to know the way of thinning the frontal bangs.
#2. Bangs for natural long curly hair
There are versatile side or frontal bangs options for long naturally curly hair.
Like when you are determined to achieve the 70's curly front flicks for long hair then brow length bangs with gradual longer cuts at the side will suit you. Also, the natural texture of curls does not require any guesswork for you when the bangs are cut in dry condition.
#3. Brow length fringes for wavy hairstyles
Since you have wavy hair, therefore, it would suit you even with irregular fringes. So, have rough eyebrow length fringes with long wavy hair for enjoying the evergreen hairstyle.
Further, for flaunting your wavy hair add bold highlighters. Those highlighters will also help in tracing the hair waves' movements. Some add-on accessories like a hair oil serum and a pointed hairbrush with a blow-dry would prevent the hair from looking lifeless and flat.
#4. Micro bangs for short hair
When you are all set to commit to creating something new then micro bangs with short hair are not a loss for you.
But your facial features equally matter for a micro bang front-cut hairstyle. Especially for girls with short foreheads, these tiny bangs look the prettiest. Use a boar brush and dry shampoo to get a choppy hair appearance.
#5. Curtain Bangs: midway to long and short frontal bangs
When you are not sure of the afterlook of short bangs or whether it would suit your face shape then drive the safe path! Yep, it's the curtain bangs that are easy to create at home even with limited accessories.
First, dry your hair before using the hair trimming shears to your front hair. Use a blow dry for wet hair as you can understand the natural growth pattern only in dry conditions.
Identify the center part of your hair at the head top and section the hair accordingly. Comb your hair thoroughly even if it falls right to the front face.
Till your chin-length cut the front hair. Then, in an angular direction cut the sides of the bangs.
Finally to blend the bangs naturally with your hairstyle, start snipping randomly to 5-6 cuts across the fringes.
These curtain bangs pair beautifully with your ponytail or when you decide to tie your hair for making a bun.
#6. Feathered fringes for a pixie Bob cut
Feathered bangs are all seasonal and appear different with every hair length. For pixie bobs, these feathered bobs give an all casual look.
Also, you can add texture to your layered hair with your natural feathery fringes. From the pixie to shaggy bobs, these casual fringes give a messy gorgeous transformation. Feathered fringes are equally vibrant when you dye your hair in red or blonde texture.
#7. Mid-length wavy hair with fringes.
Suddenly the revival of the '90s medium shoulder-length hair with fringes seems attractive and trendy.
Cutting your wavy hair to shoulder length adds the thickness of your hair in a shaggy style. Further for an elegant feel keep your fringes uneven or asymmetrical. You can try the haircut even for side flicks.
#8. Curtain bangs for long straight hair.
Straight hair suits diamond-shaped faces and those with sharp facial features. To those who are waiting to highlight their cheekbones in a classy manner, blindly go for curtain bangs with straight hair.
Some face-framing layers would give a graceful finish and a near feel.
Accessories for a Front flick haircut.
As you have come across the types of front haircuts, you should also know that maintaining the fringed hairstyle is super important.
So here are some of the recommended hair maintenance accessories to get a total hair transformation –
Dry Shampoos. For styling bangs, the pivotal role played by dry shampoo is irreplaceable. Whether you want voluminous hair or are suffering from greasy fast hair challenges! Dry shampoo can be your savior. Try out Amika Perk-up Dry shampoo and Ouai dry shampoo foam for preventing dull hair. For itchy scalp use the bridge scalp revival charcoal + biotin dry shampoo.
Texture spray. You can't miss out on the chance of looking cool with your bang looks. Some of the texture sprays also help you in achieving the voluminous effect. Some of the definite tryout products are R+Co Balloon Dry Volume Spray – Which would give you the fragrance of cardamom, lavender, and blonde woods. Other similar products which would give you the same outstanding impact are Amika Un. Done Volume and Matte spray; IGK Beach club spray and more products. All these textured sprays are in the range of $25-$35.
Hair serum. For dull and frizzy hair, it's essential to add some hair repairing serum. So, for hydrating the front haircut for long hair use, Kérastase Elixir Ultime hair oil serum. Check out from Sephora with inclusive discounts with a starting range from $24.00.
Your choice matters!
Gone are those days when bangs are considered weird and childish. Now carrying bangs is viewed as fashionable and classy.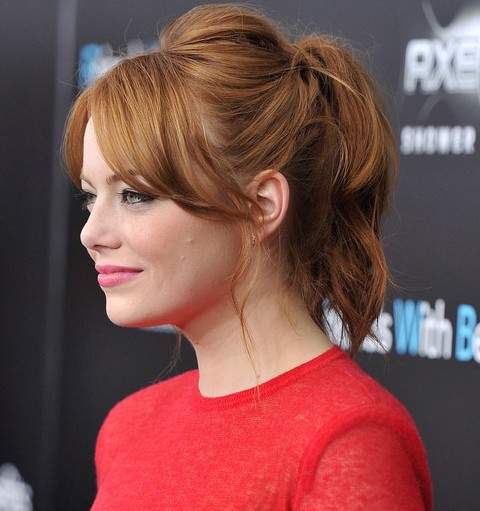 But for you deciding a type of front-cut hairstyle counts the most. Try to pick those styles that match your face shape. And the rest is well assured. Even if your fringes are uneven, don't worry it will grow the desired shape eventually.
Lastly, what counts the most is maintaining your hair bangs. Use hair serums and dry shampoo for nourishing your hair.
So, express your style by trimming the front hair!
Frequently Asked Questions (FAQs)
1. How do you layer the front of long hair?
For cutting your front long hair into layers, detangle your hair with a wide-tooth comb. Then form sections of your front long hair. From the sections of your hair twist it.

Based on your type of hair, choose the hair length from where you want the layers. Then start snipping through the twist with a sharply pointed scissor. Blow-dry the new layers and then decide if you further want to trim the front hair.
2. What is the difference between bangs and fringe?
Both bangs and fringes mean the same thing. However, the frontal locks are known as bangs in America. However, the English speakers from Great Britain prefer to call them fringes.
3. How do you cut front bangs with layers?
For cutting front bangs with layers, you should try making a triangular parting of your hair and then properly sectionalize the frontal hair to get the desired bangs. At first, don't cut the bangs extremely short and be cautious about the length of the front hair. For lasting effect, add some texture to the layered bangs.