The 6 Effective Derma Geek Skincare Products For Your Skin
A good skincare brand serves your skin with greater transparency and guarantees no harm to your skin. Recently the most talked about skincare brands and products are derma geek night cream, facial cleanser, and other skin conditioning formulas.
The derma geek brand was the result of years of expertise research on skincare products by two certified geeks Rachel and Dula.
As they say about maintaining transparency in their products, the brand is in the mouths nowadays of those looking for skin-related solutions. Check out the complete derma geek reviews of the best products below.
Reviewing Popular Derma Geek Skincare Products.
As of now, we are aware of derma geek reviews for six popular skincare products. So, let's begin with something everyone is curious to know about. It's the dream geek facial cleanser!
1. DermaGEEK Gentle Facial Cleanser with 0% Fillers.
As the name implies Derma geek facial cleanser gently cleanses your face as it does not believe any kind of harshness to the outer layer of your skin.
When you wipe out your face it makes you feel smooth as well as refreshed. The US-made products have the following benefits-
The derma geek skincare reviews suggest that it is made for all skin tones.
As they believe in product transparency, the user is informed about what and why they are using the cleanser.
More than 98% DermaGeek reviews by customers believe that the gentle cleanser removes impurities from their skin and gives a fresh look.
The formulas applied are both dermatologically and clinically tested.
Since the ingredients used are PH balanced therefore no fragrances, parabens, sulfates, or synthetic dyes are tolerated.
Some of the inherent ingredients present in derma geek facial cleanser are Cocamidopropyl Betaine, H2O, Sodium Lauroyl, Citric Acid Sodium Benzoate, Salicylate, etc.
The only reason to complain about the product is if you like aromatic skincare brands then it has 0% fragrance. However, according to us, its basic formula free from fragrances and parabens is a good sign for those suffering from delicate skin issues.
---
2. DermaGEEK Detoxifying Facial Serum with 2% BHA.
After the dream geek facial cleanser review, the next product which makes your skin exfoliated is the detoxifying facial serum. If you ask us, the serum has the potential of replacing your regular moisturizer also.
The specialty of the product is its 2% Beta hydroxy acid component assuring smoothness to the skin with greater exfoliation. Within BHA, there is salicylic acid which prevents inflammation, rashes, redness, lesser oil secretion, and even tones fine lines and wrinkles.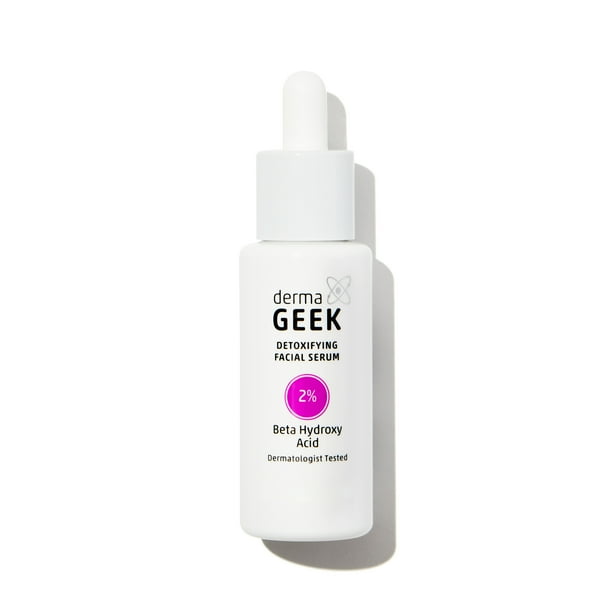 A Gentle Reminder: When you apply DermaGeek detoxifying facial serum make sure that you don't add extra than what's prescribed on the labels. Why! Because BHA may deteriorate the conditions of sensitive skin types if overused.
Also, the element is reactive to UV Rays. Therefore, you must complement the application of detoxifying facial serum with a higher SPF 30-spectrum sunscreen.
---
3. DermaGEEK Nourishing Facial Moisturizer With Sunscreen.
Another sun-protective product that received positive derma geek skincare reviews is this one. The facial moisturizer with an additional layer of sunscreen by DermaGeek is a chemical sunscreen.
The ingredients used like octisalate, octocrylene, avobenzone, and homosalate are essential constituents of any chemical sunscreen.
How different is chemical sunscreen from mineral sunscreen?
While mineral / physical sunscreen is made from titanium oxide and zinc oxide, the chemical constituents have the above-mentioned properties.
The ingredients for a chemical sunscreen function in a more layered manner. At first, it tries to protect the skin by absorbing the UV light and then converts the light energy to other energies such as heat.
Here you can make a sharp contrast with the mineral sunscreen which superficially sits on the above layers of your skin. It either acts as a shield or deflects the UV filters from the top of the skin.
Secondly, chemical sunscreen wipes out more easily than any physical sunscreen. So, you have to re-apply the chemical screens again and again. Which is an unfortunate feature of any chemical sunscreen!
The Serious Lacunae of DermaGeek Chemical Sunscreen.
Since the chemical sunscreen absorbs deeply through the skin, therefore, it directly enters the bloodstream. So, though any serious problems haven't been detected, you still can't risk your health.
The DermaGeek chemical facial moisturizer and sunscreen are not exceptional for such riskier conditions.
---
4. DermaGeek Fortifying Facial Serum with Antioxidants and 3.5% Vitamins.
The next product is the fortifying facial serum with 3.5% vitamins + antioxidants. The customer derma geek reviews are mixed for this product. Whatever, be the case the facial serum applies a powerful duo of antioxidants and vitamins in softening the skin.
The benefits of the super combo antioxidants and vitamin E are something worth talking about.
Usually, the antioxidants it uses are found in green tea and grapeseed which smooth the skin surfaces. Further, the antioxidant restores dead skin cells, limits aging symptoms, and even tones fine lines. The stretchability of the skin can be maintained.
The vitamin b3 gives hydrating and transforms into a more glowy and brightening facial tone.
Customers who are optimistic about the serum have shared their experiences like their red pigmented pimples and tinge marks eventually faded away after one week of usage.
---
5. DermaGeek Smoothing Facial Serum with 0.3% Retinoid.
Derma geek skincare reviews about smoothing facial serum with 0.3% Retinoid are also positive as retinoids are like good pals to your skin. Similar to other serums it softens and supples the skin.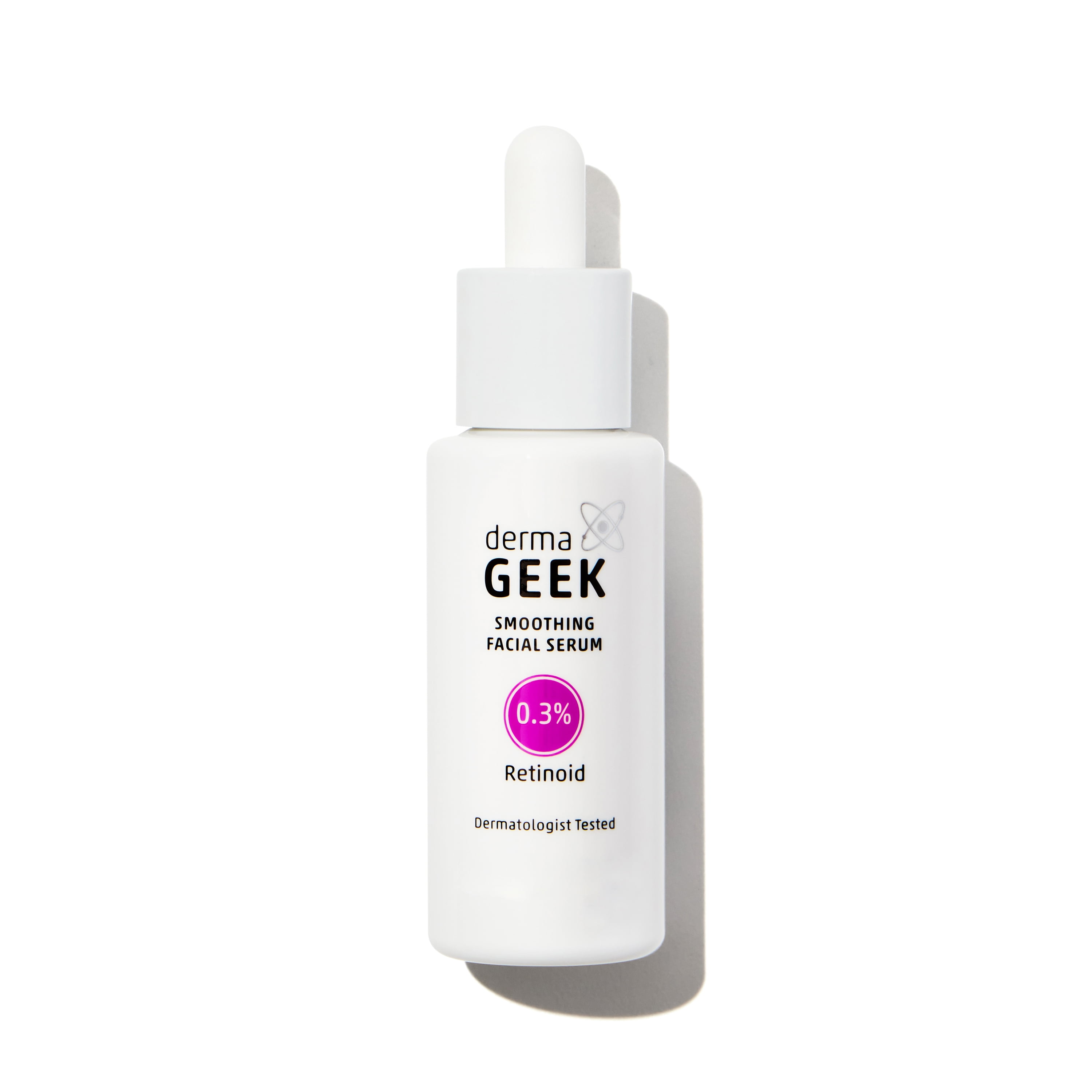 But that's not all about it, they provide a bonus to the users. While you apply the skincare product your enlarged pores near the cheeks and nose get cleansed. Retinoids are the most natural healing ingredient as per dermatologists.
They ensure collagen generation and even tone your fine lines and reduce wrinkles. They also protect your outer layer of skin from the additional deposit of keratin and remove all kinds of acne.
---
The Nyctophilia Skin: Derma Geek Night Cream product
6. DermaGeek Nourishing Facial Night Cream.
The derma geek night cream is the most sold one and has received the highest positive reviews yet. The night cream is enriched with natural components which promotes a healthier skin look and rich texture.
The ingredient called niacinamide is added in a proportion of 3.5% which shifts your night skin to turn softer.
Benefits of Applying The DermaGeek Facial Night Cream.
Here are some positive effects of using the cream as per the derma geek night cream reviews-
Niacin in Vitamin B3 is a competitive antioxidant and enforces cellular metabolism.
If your skin is suffering from any kind of external or internal barriers it repairs the problem and also adds skin moisture.
Skin issues like hyperpigmentation, wrinkles, inflammation and blotchiness get cured.
The potential niacinamide element also has some special sebostatic and antimicrobial effects which reduce acne and ceases the production of extra oil.
Some of the negative derma geek night cream reviews mention the disappointment in jar packaging. The jar packaging is so substandard that every time users open the jar, a specific quantity of cream falls off leaving the potency of antioxidant ingredients.
Derma geek Purchase Related Information.
An additional reason to buy derma geek skincare products is its reasonable pricing than other abroad brands. The most ordered dermaGeek Night Cream costs $19.9 and the Facial Cleanser is purchasable at $7.99.
You can also buy the dermaGEEK Exfoliation & Moisturizing Combo Gift Set including-
Detoxifying Facial Serum, 1.3 FL OZ
Nourishing Facial Night Cream, Trial Size
The gift combo is available on Amazon at USD 19.99 + shipping charges may apply. Other than from Amazon, all dermageek products are accessible in beauty e-stores like Walmart, Walgreens, Kroger, and other US-based third-party retailer sites.
The brand also accepts returns if the request is placed within the next thirty days. However, no damaged incorrect items or defective ones are eligible to request for return. The Customer should also readily pay the shipping charges of the return order being made.
That's All!
We have tried to brief you about the derma geek products and what customers think about the brand. While some derma geek reviews share their disappointing experience with packaging and all but the night cream has been recorded as the most purchased product.
On average, derma geek night cream reviews are quite optimistic and ratings are above four stars out of five on Amazon and other related shopping sites.
As a note of precaution, we will suggest not to apply extra any of the skincare products as overuse can react to sensitive skin types.
Also Read: 10 German Skincare Product Brands That Are Presently On The Limelight
Also Read: 5 Tips To Follow The Perfect Skincare Routine For Oily Skin+(FAQ's)