12 Best Arabic Eye Makeup Looks For Every Occasion
Have big and gorgeous eyes? How about playing them with some colors and accessories so that you get Arabic eye makeup? It's a great idea, right?
After all, we have a crush on the glorious Arabic makeup look of the middle eastern people and it will be a treat to get such makeup looks on our eyes.
So, why not decorate our eyes with winged eyeliner, heavy eyelashes, kajal, and other makeup accessories to make it smoky or any other type?
For your assistance, we have brought for you 12 different middle eastern makeup styles for eyes that will make your eyes look bold and beautiful, apart from imparting a lot of drama into them. Here are they:
1. Multi-color Arabic Eye Makeup
No one can refute that there's something about Arab makeup. Do you want to get such a fascinating Arabic eye makeup look?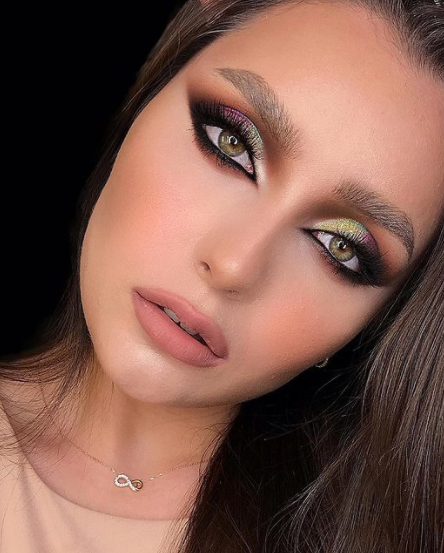 Then just pick 2 or more shades of eye pigments and formulate an incredible blend of unique tints on your eyes. Imagine you are sketching on a canvas with colors, putting different colors with different brushes over your eyes flawlessly.
Give your eyes an incredible and crease-free Middle Eastern eye makeup look with excellent color combinations done with perfection. Don't forget to apply a shade or two of dark colors for making your eyes' outer corners appear smoky.
---
2. Grab Everyone's Eyeballs With Mandatory Gliding Kohl
Kohl is perfect for cat eyes look and if you want your eyes to look like that, grab a beauty product in the form of Kohl for you from the market.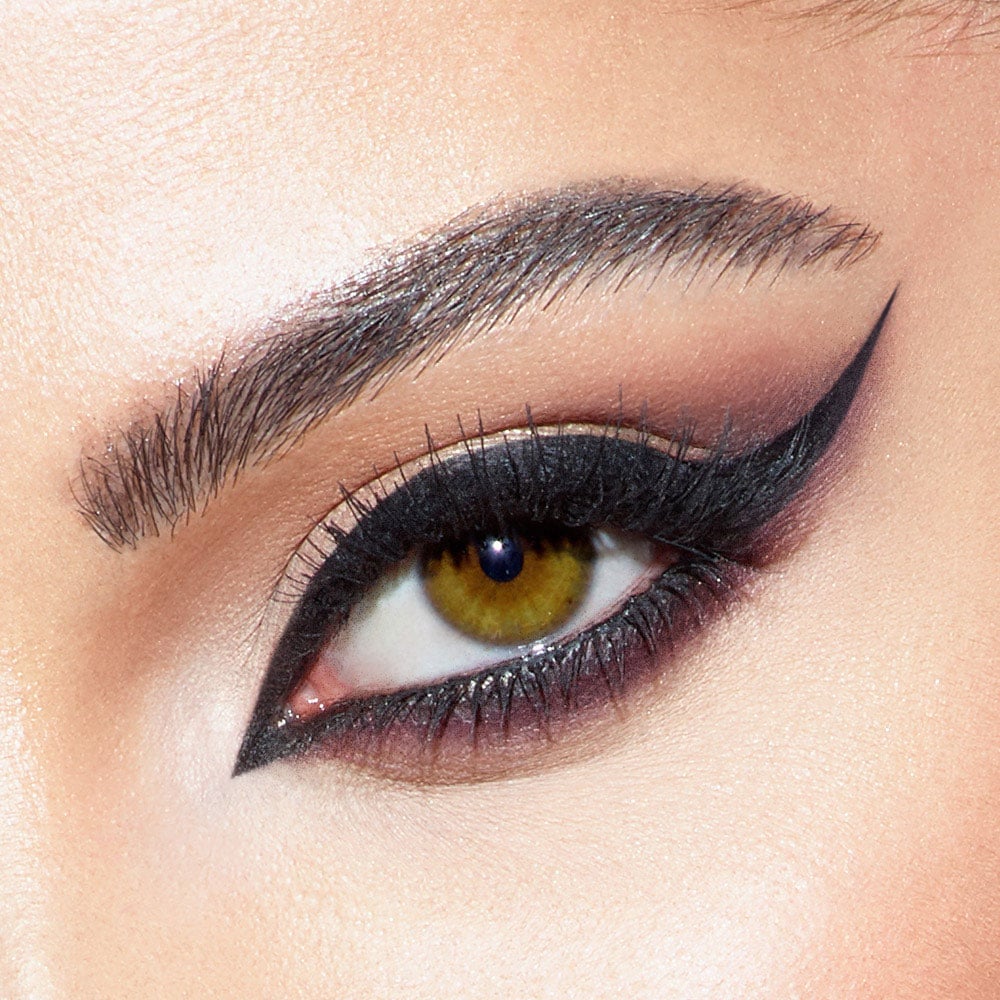 Besides, Kohl's is generally a must-have product for doing Middle Eastern makeup and so you can't omit it from your makeup products list if you seek Middle Eastern eye makeup for yourself.
---
3. Be The Showstopper with False Eyelashes
Want to get that Arabic eye makeup look that could make you an important persona of a program? Then, allow your dream to come true with false eyelashes used for Arab makeup.
Before you start the makeup keep the lashes near your mirror so that you don't do the blunder of forgetting them before leaving yourself for a show.
---
4. Make Everyone Your Die-hard Fan With A Highlighter
Another way to procure Middle Eastern eye makeup is by using a highlighter.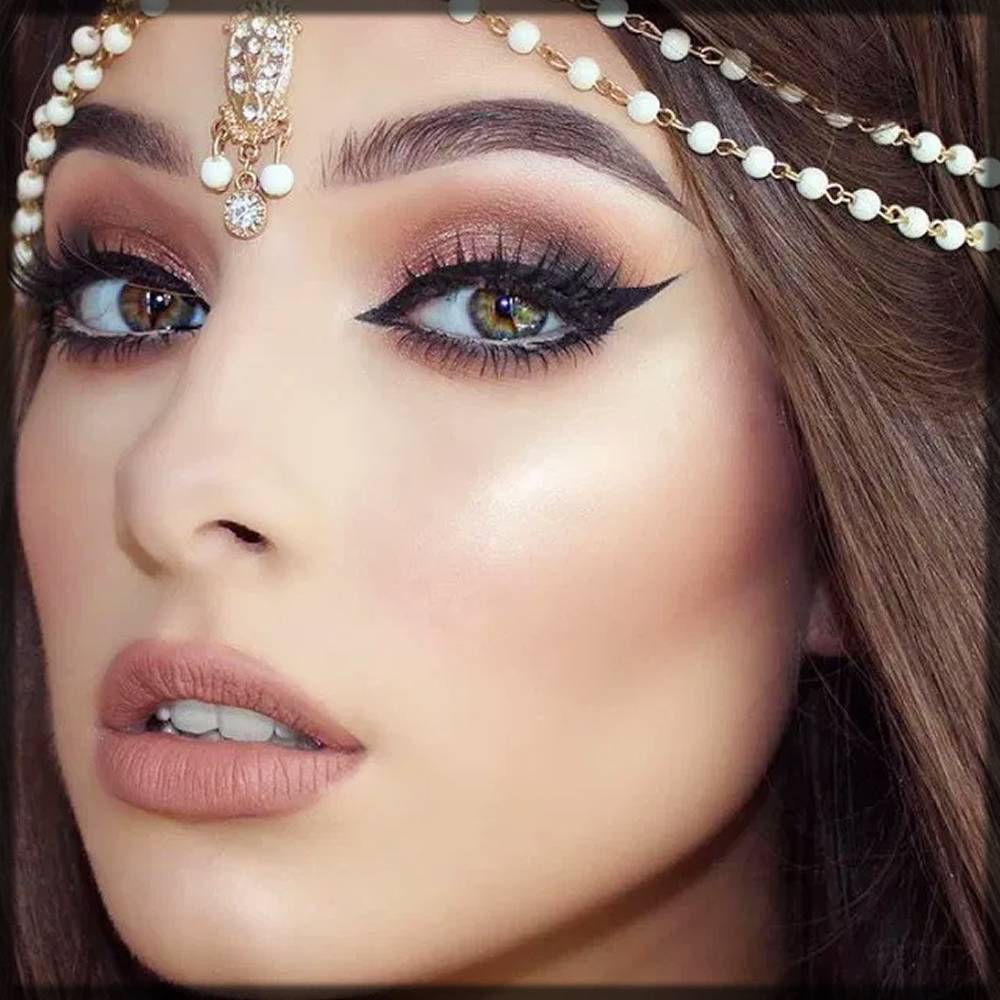 It's an imperative kit for getting an Arabic makeup look that makes you look spectacular by highlighting your brow bone and your eyes' lower regions.
---
5. Use A Primer And Let Your Killing Eyes Tell It All
Wanna get an Arabic eye makeup that will give you a killing look? Then, which other beauty kit can render you such glamour other than a primer?
Yes, indeed, primer is not always used in the case of normal makeup, but, in the case of Arab makeup, it's a must. This beauty rig saves you from unwanted creasing on your face and increases your Arabic charisma.
---
6. A Winged Or Cat Eyeliner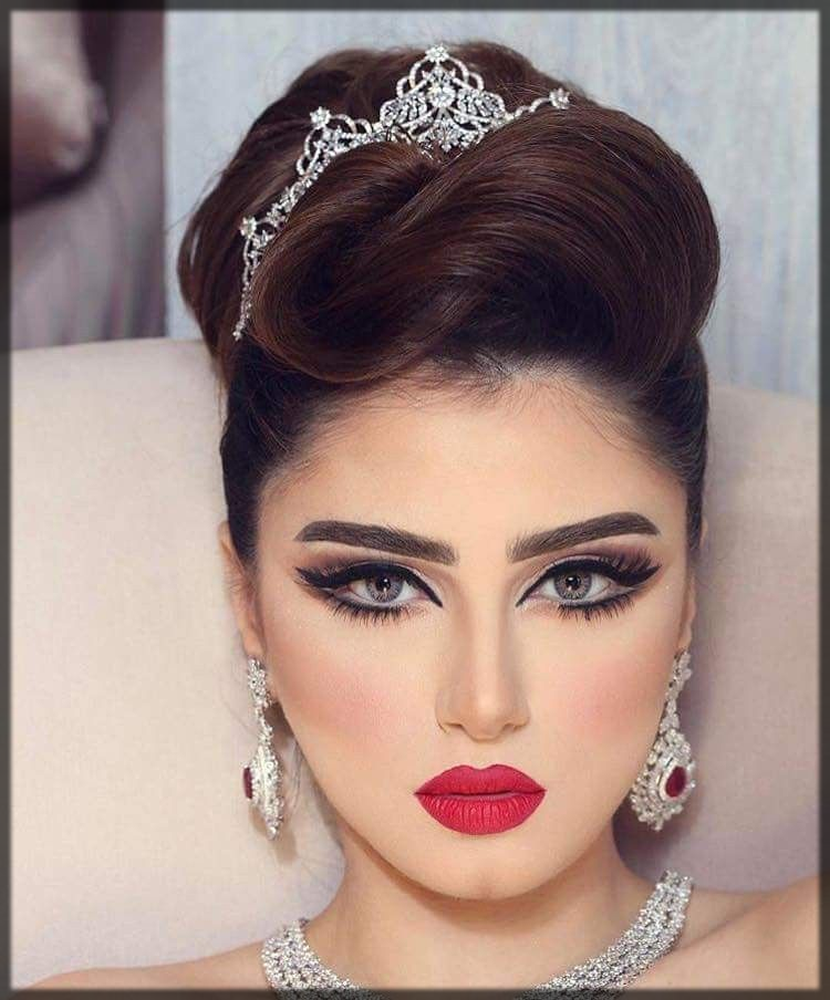 Dreaming of looking like the marvelous ladies of Arabian Night? Then, throw your typical eyeliners away and clutch the ones that will reinforce the Arabic makeup look on your face.
Buy gel or liquid liners that can give the perfect finishing to your eye makeup. Apply the liner (it may be a colored liner if you want) on your upper lash line pairing it with some Kohl on your lower lash line. You will be startled by the difference in your look.
---
7. Choose To Do The Cut-crease Arabic Eye Makeup
Cut-Crease eye makeup is not something new. But, how about adding an Arabic touch to that makeup? Will not the makeup look exotic? Mix tints of brown with gold over your eyes and engage an exclusive lot of shimmer with it.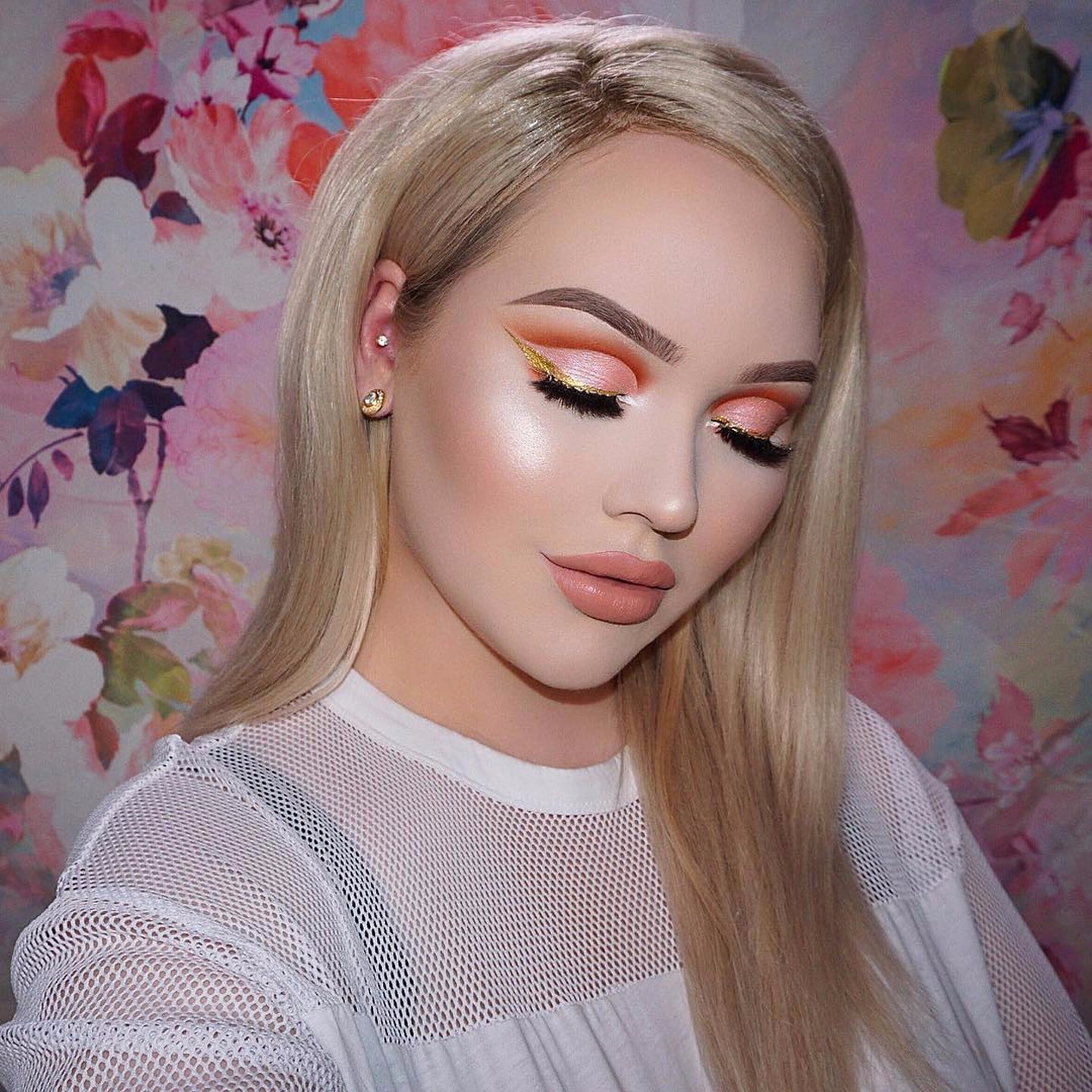 You can strengthen everyone's craze for you by combining this Middle Eastern makeup look with nude lipstick on your lips and a hefty contour. It will give the full effect to your look. How to get the look? Well! First, apply eyeshadows after priming and grooming your eyelids.
The eyeshadows must include gold, black and brown hues. Carry it with a lot of shimmers. Don't forget to blend and crease it for getting a seamless look.
Extend the light-hued pigment applied under your crease for creating a wing and accentuate your brow bones. The next step is to apply dramatic eyeliner. You may also use concealer for correcting the edges. The last step is to coat the eyelashes with mascara to get the superb Arabian look.
---
8. Try To Look Brilliant With An Intense Smokey Eyes
Wanna be bold and beautiful? Then, this Arabic smokey eye makeup look will do the job. For getting this intense dramatic look, first, apply eyeshadows over your eyes.
For smokey eyes, go from a dark shade to a light shade instead of the opposite one. You should apply a dark-colored pigment in your eyes' inner corners and a light shimmery shade at the lid's center and warm mauve on your eyes' outer corners.
Blend the colors only where they connect. The second step is to load up an eyeliner/kajal. After you are done, proceed with your brows.
Fill them up with a brow pencil and make them appear more defined. Do it with a brow pencil in such a manner that you fill in all gaps.
---
9. Achieve Tremendous Eyes Makeup By Using Tape
Are you a perfectionist who never tolerates imperfection in your work? Then, get rid of the imperfection and creasing look and get a Middle Eastern makeup look by pasting tape on your eyes' outer corners.
Do it in such a way that the tape gets pasted in a slanted line and its bottom portion remains toward the eyes. Hiding your creases with eyeshadow or eyeliner after using this tape, gives your eyes an Arabic eye makeup look.
---
10. Art Of Blending Light Eyeshadows With The Dark Ones
We always say, "old is gold". Follow it if you seek elegant Arabic eye makeup for your eyes.
It's a conventional Arab makeup practice to apply dark shadowed pigments over crease lines or eyes' outer corners and light shadowed pigments (such as silver, golden, etc) on the eyelids' middle portion. Imitate that same for your eyes and see what difference it creates!
---
11. Know The Technique Of Using Eye Makeup Brushes
For getting an Arabic makeup look, learning the techniques of using brushes and knowing various Arabic painting styles are vital.
For applying eyeshadow over your eyes, you must use a flat-headed brush. On the other hand, for blotting or pleating eyeshadow over your eyes, you must use a tiny tapered type brush.
Also, along with these fundamental codes, you should understand the common finishing techniques to get a perfect look.
---
12. Drama Central Arabic Eye Makeup:
Wanna get a subtle eye makeup that actually plays up to get more dramatic. Focus on your eyes first and start applying some eyeshadows that are highly pigmented with colors, easily blendable, and long-lasting.
Now, add the eyeliner with an eyeliner pencil or kajal. Tightening your eyes' upper lash line, use the pencil to go over your eyes' lid.
Also, fill in the lower line without making it too heavy. Now, smoke it out using a makeup brush. Put some volumizing and eyelid curling mascara over your lids. So, ensure that the mascara coating is thicker and longer lasting.
The mascara must be both volumizing and curling. Comprising a water-resistant formula with an intense black finish, the mascara is transfer-resistant and smudge-proof.
Wrapping Up:
So, are you going to try these techniques out for getting Arabian eye makeup looks? We are sure, you will. But, remember, it's really challenging to portray an Arabian look out of your eye makeup.
So, proceed only after going through the whole thing in detail. Bye for now! Will meet again in the next article. Have a good day!
Also Read: 16 Best Way To Wear Pink Eyeliner Like A Pro
Also Read: The Top Eyebrow Trends For 2022 – From Subtle To Bold